What is a Fashion Makeup Artist?
A fashion makeup artist is a makeup artist (MUA) who specializes in doing makeup in fashion settings. This can include magazines, the fashion runway, and video promotions for the fashion industry. People who work as fashion makeup artists can train in a number of different ways, ranging from attending a school which offers classes in makeup artistry to apprenticing with an experienced makeup artist to learn the tricks of the trade. Pay in this field is generally low, except for makeup artists with a well established reputation.
Fashion makeup is a unique field within the larger career of makeup artistry. Makeup for fashion settings is usually designed to be high impact, and is meant to show the model and the design being modeled to the best effect. However, it can also be highly experimental; runway shows can include a variety of looks from relatively plain makeup which allows the clothes to be clearly seen to elaborate prosthetics which become part of the overall display on the catwalk.
Fashion makeup artists need to be proficient in creating looks which will function well on the runway and at creating looks for magazines. The needs of these settings are very different. Runway makeup often needs to be bold in addition to durable so that it will be seen from the audience and hold up under the lights and heat. In magazines, by contrast, more subtle makeup effects are utilized because the viewer is not distanced from the subject, and the makeup artist has numerous opportunities to adjust and spruce up the makeup between shots to get the perfect look.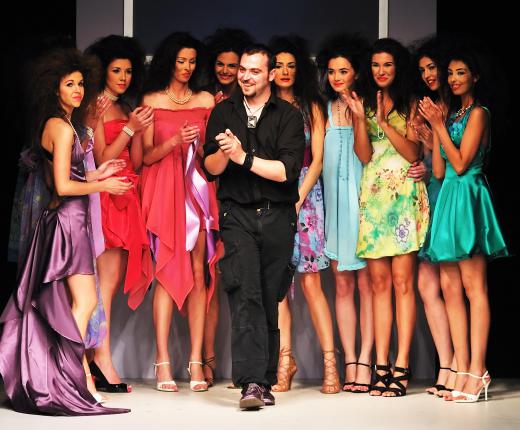 On a typical shoot or fashion event, the fashion makeup artist is one among a crew of supportive personnel who prepare models for the event. A separate hairstylist is usually used, along with a dresser. The makeup artist works with the designer to determine what kind of look and feel is wanted when the model is fully dressed and styled. Especially at major fashion shows, the work of the fashion makeup artist can be key to determining which models will stand out from the crowd, and by extension, which designers will receive acclaim.
Working as a fashion makeup artist can be demanding. Travel is usually required to reach fashion events and on location shoots, and the makeup artist sometimes needs to be able to work very quickly. A model might walk for multiple designers, for example, and require quick makeup changes between events. The makeup artist also needs to be prepared for variables like heat on location which could compromise makeup. Someone who wants to work as a fashion makeup artist should plan on putting in long hours to gain experience before major jobs will fall her or his way.
AS FEATURED ON:
AS FEATURED ON:
By: Dmitry Fischer

A makeup artist is knowledgeable about various cosmetic products, trends, and techniques.

By: .shock

Fashion makeup artists help provide a variety of looks at a fashion show.

By: xalanx

A good makeup artist should have an array of eyeshadow colors.