What is a Medical Research Assistant?
A medical research assistant helps conduct investigative and original studies in a clinical laboratory setting. Many assistants work in hospital and university labs, researching disease pathology and injury physiology. Others are employed by pharmaceutical companies, biotechnology firms, and private research labs to develop new drugs and help with clinical trials. In any setting, a medical research assistant performs a wide range of duties in setting up, carrying out, and documenting experiments.
Research assistants who aid in drug discovery and disease investigation studies spend most of their time in sophisticated scientific labs. They are responsible for preparing samples and testing equipment, including test tubes, chemical dyes, microscopes, and centrifuges. Under the guidance of lead researchers, they conduct experiments and record findings. At the end of each day of experimentation, the assistant stores samples in their appropriate locations and cleans the lab.
Clinical trials often involve testing the effectiveness and potential problems of new drugs on volunteer human participants. A medical research assistant who helps with clinical trials is usually responsible for assessing participants, placing them in appropriate groups, administering drugs and placebos, and documenting daily findings in computer spreadsheets. At the completion of the study, the assistant helps the lead researchers compile raw data into meaningful reports, charts, and graphs.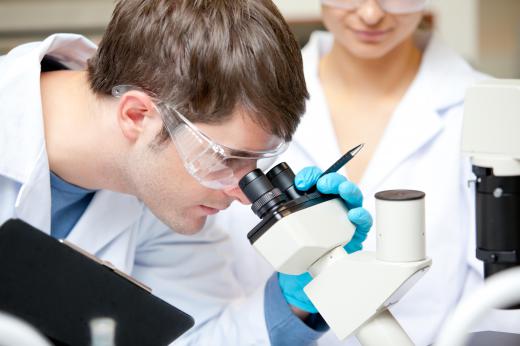 In order to ensure quality results in lab experiments and clinical trials, it is important for a medical research assistant to be highly organized and thorough. Lab samples must be handled and labeled with care and research notes need to be orderly, coherent, and accurate. Rigorous attention to detail on the part of the medical research assistant allows lead scientists to produce reports with full confidence that findings are true.
A person who wants to become a medical research assistant usually needs to hold at least a bachelor's degree in biology, biochemistry, or another subject related to human health. Many graduate and doctoral students apply for research assistant jobs to help them prepare for their eventual careers as clinical scientists or physicians. Some employers require prospective workers to pass certification exams to ensure they understand ethics, legal concerns, and standard procedures.
With the appropriate credentials, an individual may enter a formal training program that can take anywhere from two weeks to six months depending on the scope and difficulty of job duties. A trainee works alongside experienced scientists and assistants, learning firsthand how to keep records, organize studies, and set up trials and experiments. In time, a new worker may be given more responsibilities and allowed to perform important tasks under minimal supervision.
AS FEATURED ON:
AS FEATURED ON:
A medical research assistant placing a test tube in a centrifuge.

By: WavebreakMediaMicro

Many research assistants work in medical and academic environments.

By: Konstantin Sutyagin

Medical research assistants may help by inputting findings into a database.

By: kasto

Medical research assistants will prepare samples and testing equipment.

By: Darren Baker

Different labs have different requirements in regards to their medical research assistants.