What is a Microbiologist?
A microbiologist is a scientist who studies organisms called microbes, which can take the form of bacteria, viruses, or fungi. This person is trained to study these microbes in depth. He or she must be familiar with the microbes' environments, how they live, and the effect they have on the world around them.
As microbes are diverse, microbiologists tend to have their own specific area of study, often focused on a specific type of microbe. Those who study only bacteria are called bacteriologists, for example, while those who study viruses are known as virologists.
One of the main research aims of these professionals is to find out how microbes affect the world around them. Certain types of microbes are harmful to humans, and a microbiologist may study the reasons for this, along with ways to prevent infection in humans. An immunologist studies how the body defends itself against certain microbes.
Throughout history, many fatal diseases have been eradicated thanks to the help of these experts. By learning how microbes live, reproduce, and attack humans, it is easier to stop them. Many microbes are capable of causing new diseases, as the environment is constantly changing. Epidemiologists are trained to study outbreaks of disease and to determine their causes and how they can be prevented in the future.
The microbiologist is mainly based in the laboratory, where he or she may work in many specialized areas. These individuals can be concerned with medicine, healthcare, agriculture, or the food industry. The military also employs them as well, although biological warfare development and defense is a controversial field employed by many governments around the world.
The day-to-day work in this field is often varied, and a wide variety of tests are used when researching microbes. As well as testing pure culture samples, the microbiologist must also work with highly sophisticated computer software when undertaking research. This software is used to track the development of the microbes and to calculate and theorize on the growth and development of specific microbes in the environment.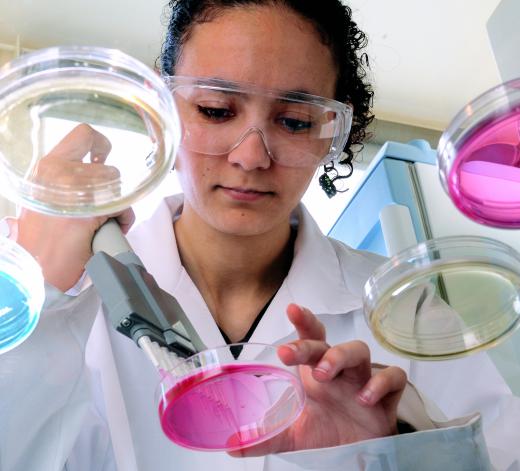 Microbiology is a very important branch of science. People who work in the field test the food that people eat and makes the medicine they take when ill. They help prevent nations from being wiped out by disease and make sure that washing powder is safe for human skin. It takes years of dedicated training to become a microbiologist, and up-to-date research and learning are essential. Governments spend billions of dollars each year to ensure that their vital microbiology divisions are second to none.
AS FEATURED ON:
AS FEATURED ON:
By: cubephoto

Microbiologists may gather water samples to test for harmful microorganisms.

By: Vasiliy Koval

Microbiologists work with organisms too small to be visible with the naked eye.

By: ggw

Microbiologist study Listeria bacteria in a Petri dishes.

By: KaYann

Microbiologists work in a research lab.

By: kasto

Microbiologists investigate how microbes affect the world around them.