What is a Mobile Disc Jockey?
A mobile disc jockey is an individual who travels to a special event or party with mobile sound systems, and usually entertains the audience by playing from a typically wide collection of pre-recorded music. A mobile disc jockey may work part-time or run a full-time service, often having an affiliation with wedding planners and event management companies. In some countries, such as the United Kingdom, the mobile disc jockey service is generally known as a mobile disco.
Instead of taking formal classes, most aspiring disc jockeys (DJs) prefer to learn by volunteering as an assistant to senior mobile DJs. In tune with current music and dance trends, a mobile disc jockey typically has the talent to motivate diverse groups of people to get up and have fun. In addition to good organizational skills, vocal talent as a master of ceremonies (MC or emcee), and mixing skills, a mobile disc jockey may also have the expertise and experience to assume the additional responsibilities of an event organizer, lighting director, or sound engineer.
Some of the basic equipment generally required to run a mobile disc jockey business are sound recordings, a playback device, sound systems to amplify the music, and a mixing device. In the past, most mobile disc jockeys typically toured with a large number of vinyl records and cassette tapes, but now they usually carry recordings in a CD or MP3 format. Most mobile disc jockeys invest in a vehicle that is suitable for touring, and can carry a CD or MP3 player, a mixer, and microphone, along with speakers and amplifiers. In addition to professional-grade music equipment and an extensive selection of old and contemporary music, a mobile disc jockey may sometimes also carry high-quality lighting, and on-site backup equipment. Touring frequently with expensive equipment, most disc jockeys typically opt for liability insurance, and a policy to cover the sound systems in transit.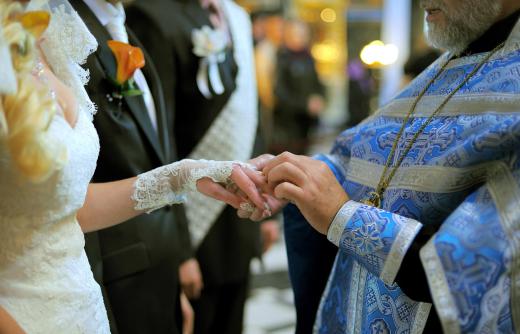 The disco era of the 1970s increased the demand for mobile DJs. By 1990, mobile disc jockeys had formed many professional associations worldwide, and brought out a number of trade publications. In the 2000s, with digital technology stimulating the music business, most DJs began to rely heavily on laptop computers and MP3s for sequencing and mixing. The new technology allowed a mobile disc jockey to finish mixing far ahead of an event, and also significantly reduced the DJ's on-road equipment load. Many mobile disc jockeys now have computer software that does the work of devices such as samplers and effect processors.
AS FEATURED ON:
AS FEATURED ON:
By: zhu difeng

A mobile disc jockey travels to special events with mobile sound systems.

By: photographmd

A mobile disc jockey might be hired for weddings.