What does a Radio Producer do?
A radio producer is instrumental in all aspects of generating radio shows. His job requires his input from the time a show is presented as a concept, often one created by him, through its broadcast. Every phase of development, research and technical production for a show normally receives significant input from the radio producer. He may work for a small independent station or a national or international conglomerate.
If the radio station follows a music format, the producer is normally expected to know the audience and their tastes. He frequently creates the playlists for each show based on demographics and research. The contests and promotions frequently associated with popular music stations are generally the brainchildren of the radio producer.
The job of a radio producer on a station dedicated to news and talk radio is different than that of music. He is commonly required to procure guests of interest to specific hosts and audiences. Once a guest is booked, he is customarily expected to suggest questions and topics to make the guest's interview compelling. If a talk show accepts calls from listeners, the radio producer is frequently the person who screens the calls before passing them on to the talk show host.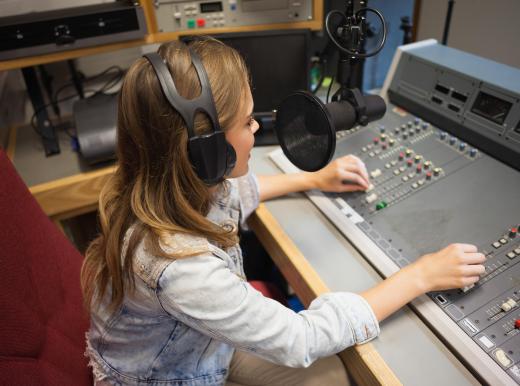 Besides being a major contributor to the creative content of programming, a radio producer is generally heavily involved in most of the technical aspects of radio program broadcasting as well. He is typically required to have expertise in operating all the studio equipment required to produce, record and edit music and interviews. The producer's technical proficiency may affect the quality of every sound his station's audience hears. His communication skills with the engineers and technical support staff are normally required to be impeccable to guarantee consistently high quality broadcasts.
At many radio stations, the producer also is heavily involved in the financial side of the business. He commonly works closely with management on budgets for advertising, promotion, operational expenses and salaries. If trade unions are involved, he is customarily the station's spokesperson during negotiations.
A radio producer's organizational and problem-solving skills are vital to his success. Each day generally presents a new menu of challenges involving everything from guests and advertisers to technical malfunctions. Since the majority of radio broadcasts are live, he is typically required to quickly identify and resolve conflicts to avoid any dead air.
The minimum educational requirement to apply for a radio producer position is a high school diploma or equivalent. Most stations prefer a bachelor's degree in broadcast journalism, radio and television arts or mass communications. Trade school certificates in radio production and broadcasting are good qualifications as well. Experience in broadcasting or media relations can be helpful to aspiring job candidates.
AS FEATURED ON:
AS FEATURED ON:
By: dmitrimaruta

A radio producer manages on-air broadcasts.

By: WavebreakmediaMicro

A radio producer's technical proficiency may affect the quality of sound that her station's audience hears.

By: On-Air

A radio producer is typically required to quickly identify and resolve conflicts to avoid any dead air.