What is a Production Coordinator?
The term production coordinator may be used to designate several different employment positions that involve coordinating departments, organizing materials and personnel, and creating or tracking a production schedule. The two jobs most commonly named production coordinator are in the fields of filmmaking and manufacturing. Production coordinators in each of these two industries perform similar job duties, but each also performs industry-specific tasks.
There are several production coordinator job duties common to coordinators in many industries. This position is typically in charge of planning and maintaining a production schedule. Also, most production coordinators manage the flow of personnel, equipment, and raw materials in order to optimize the efficiency of the production. They typically also ensure that staff and resources are in the right place at the right time.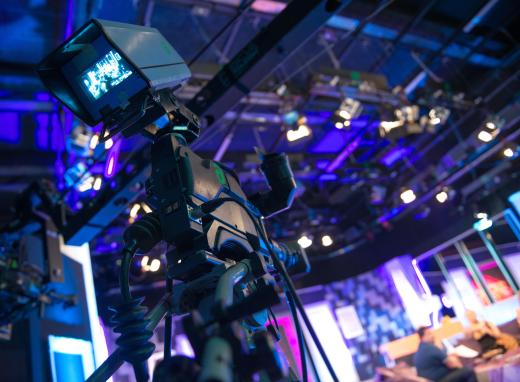 The two main industries that hire production coordinators are the film and manufacturing industries. For the most part, film coordinators work to produce a film or television program, while manufacturing coordinators are hired to create commodities for a client. In addition to the basic job duties common to most coordinators, these jobs usually require several tasks particular to the industry.
Film production coordinators typically organize and maintain steady work flow for film, television, or TV commercial production. To help increase efficient communication between members of the cast and crew, most production coordinators keep in contact with all the people involved in the production. They may also manage some of the production paperwork. One of the main jobs of this coordinator is to ensure that all vendors, actors, and crew members have signed work contracts.
Another major job duty of a film production coordinator is to coordinate changes in filming locations. He or she is typically the person who maintains the production schedule by working with directors, production managers, and location scouts to determine when and where the filming will take place. This sometimes involves coordinating a crew of hundreds of people so that all of them arrive on time at the right location.
In the manufacturing industry, such a coordinator generally manages a production schedule for the manufacture of a product. He or she often creates, and helps implement, a master production plan. This coordinator may also be responsible to maintain the smooth flow of work between departments.
A production coordinator of this type may be called upon to track materials through the manufacturing process. This task is often called inventory control. It typically involves cataloging raw materials and component parts, the products at each stage of production, finished products, and any shipping and office supplies.
AS FEATURED ON:
AS FEATURED ON:
By: DeshaCAM

Duties of a production coordinator include tracking production schedules and organizing other elements for film and TV shoots.

By: Peter Kim

A production coordinator works to produce a film or television program.

By: Monkey Business

A production coordinator may be tasked with entering recently received raw materials into an inventory database.