What is an Airline Customer Service Agent?
An Airline Customer Service Agent is a professional who assists passengers with check-in, boarding, and luggage issues. They are the face of the airline, ensuring a smooth travel experience. But what skills are needed to excel in this role? Let's delve deeper.
An airline customer service agent is an individual who assists travelers with everything from purchasing tickets and getting answers about flights to selecting seating arrangements and managing special needs. A person in this position has the job of making sure an airline customer's needs are met efficiently. He is also charged with making travel with the airline and boarding the plane as pleasant as possible, so the customer will want to patronize the airline again.
When an individual needs over-the-phone or in-person help from an airline representative, he often turns to an airline customer service agent. These agents handle questions and special requests from airline customers and may also sell tickets. A customer service agent is typically responsible for ensuring passenger seating requests are met, whenever possible. He may also process requests for special meals and assist passengers who desire upgrades.
Part of this job often includes helping individuals with specials needs. This may include helping handicapped travelers or children who are traveling without their parents. It can also mean spending a little extra time reassuring passengers who are anxious about flying.
Sometimes, an airline customer service agent is responsible for helping customers board planes. He may check passenger tickets as people prepare to board and show passengers where they need to go. He may also help check on cabin security and make announcements as necessary. In some cases, the agent also processes luggage for the airline's passengers.
In order to be successful in this job, an individual should be resourceful and capable of keeping up in a fast-paced environment. He typically needs good communication and problem-solving skills. Some airlines also expect successful job candidates to have typing skills.
A customer service agent candidate should also be patient and able to stay calm when situations become intense. If an airline customer becomes angry about a delayed flight, for example, the agent isn't expected to react with anger or frustration. Instead, he's normally expected to remain calm and courteous throughout all of his communications with airline customers.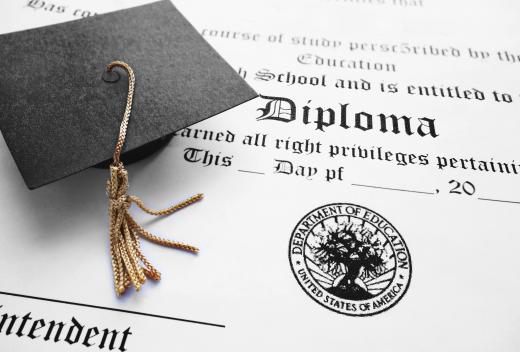 In most cases, an individual does not need a college degree in order to find work as an airline customer service agent. Instead, applicants usually need a high school diploma or its equivalent. Some airlines require new agents to have a couple of years of experience in a customer-service-related job. There are many airlines, however, that are willing to train agents. In fact, many airlines offer paid training, even if an individual already has customer service experience.
AS FEATURED ON:
AS FEATURED ON:
By: monticellllo

Customer service agents process passenger's luggage at an airport.

By: Syda Productions

Customer service representatives have to treat customers well, even if they're having a bad day themselves.

By: zimmytws

To become an airline customer service agent, a person usually needs a high school diploma or its equivalent.

By: Pavel Losevsky

Airline customer service agents may be the primary source to receive feedback about flights.

By: HappyAlex

Air travel is often stressful, and a problem with customer service may prompt passengers to give the airline a poor satisfaction rating.