What is an Ethics Officer?
An ethics officer is someone who aligns the practices of a workplace with the stated ethics and beliefs of that workplace, holding people accountable to ethical standards. Ethics officers are an increasingly common sight in the business community, and they can also be found at colleges and universities, where ethical conduct is often an issue of grave concern for students and staff. Special qualifications are not required to act as an ethics officer, although people in this position generally tend to have excellent ethics.
Ethics officers perform a number of important tasks. They can help their employers develop codes of ethics so that a clear standard is created, and they also establish clear consequences for violations of these codes, so that everyone at a company understands that he or she will be held ethically accountable. Ethics officers may also enforce ethical codes, and make adjustments to the code as needed.
Someone who works as an ethics officer usually looks at the letter of the law when formulating policy, in addition to the industry standard. The law may provide a surprising amount of ethical wiggleroom, which means that it is up to individuals to do the right things, and sometimes industries as a whole may collectively come to ethical agreements. For example, it is not illegal to cheat on exams, but colleges and universities usually have policies in place which are designed to prevent cheating because they feel that it is unethical.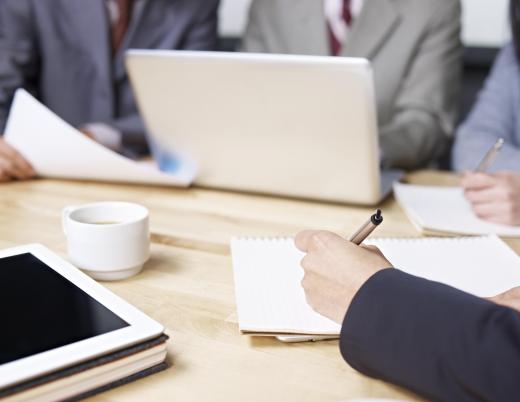 One of the roles of an ethics officer is to examine the stated values, mission, and goals of an organization and to determine whether or not the organization's behavior actually supports these statements. A company which claims to behave ethically may use an ethics officer as a symbol of accountability, showing that it does not just pay lip service to the ideal of ethics, but actually has an ethics code in force and appoints people to enforce it.
Ethics officers can also be part of the ethical review boards which review proposed experiments in the research environment or consider other proposed activities which may have ethical implications. In their role as compliance officers, ethics officers keep an eye on all activities at an organization, from whether or not the janitor checks the trash for recyclables to how the company embarks on contract negotiations. The ethics officer may also be empowered to undertake investigations into specific employees or activities to confirm that they conform with the company's ethical guidelines.
AS FEATURED ON:
AS FEATURED ON:
By: Tyler Olson

An ethics officer may be employed by a college or university.

By: imtmphoto

An ethics officer may be part of an ethical review board.

By: silent_47

An ethics officer is tasked with determining whether or not an organization's behavior supports their stated values, goals, and mission.

By: ivanfff

An ethics officer might review how suspects are questioned by police officers.

By: Petr Nad

An ethics officer might ensure all trash produced by a company is properly disposed of.