What Is the Role of a Receptionist?
The role of a receptionist can play an important part in the overall image and atmosphere of nearly any business. As the first point of contact for clients and customers, the receptionist is often responsible for the first impression of any person who walks in the door. The role of a receptionist may also include various secretarial tasks that require good organizational skills, as well as computer literacy and strong communication abilities.
In many businesses, the front office or reception area is set up so that all incoming visitors will start at the receptionist's desk. Working as a greeter and initial contact for clients and customers is a major part of the role of the receptionist, as he or she may be responsible for creating a positive first impression. Good personal skills can help a receptionist present him or herself as friendly, welcoming, and competent. Since some visitors may come in already agitated or upset, conflict management training can also be very useful in the role of a receptionist.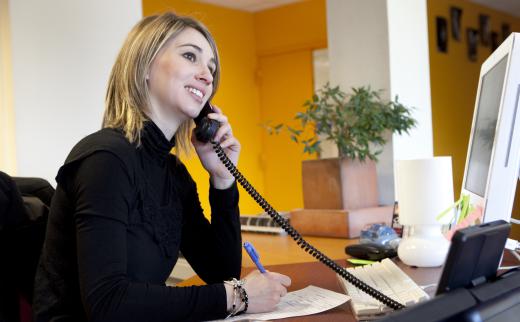 The ability to prioritize and work in an organized fashion is crucial to most receptionist jobs. Many receptionists are tasked with keeping company records and filing systems, maintaining daily schedules for company VIPs, and ensuring that the proper chain of command is upheld. A good receptionist must be able to quickly assess the needs of each person or problem that comes to his or her desk, and make sure that problems are managed in the most effective manner. A well-organized receptionist helps a business flow smoothly, ensuring that the right issues are sent to the right department.
Computer skills often play an important part in the role of a receptionist. In many jobs, a receptionist must be able to run record keeping, billing and payment, and data entry computer programs specific to the job. Many are also responsible for reading and sorting company emails, typing or transcribing letters, and managing online filing systems. A receptionist with strong computer skills and a comprehensive knowledge of all necessary computer programs can help improve the accuracy of company records and the efficiency of a company's day-to-day jobs.
Since the receptionist often serves as a conduit between all branches of a business, as well as the public, his or her role naturally requires excellent communication skills. Company employees may often find themselves stopping by the desk of the receptionist for information on a particular issue or customer, since he or she has direct contact with nearly all clients and company personnel. While it is important for a receptionist to serve as an accurate resource for information, it is also crucial to the role of a receptionist that he or she understands privacy policies and disclosure laws. Receptionists must be able to be discreet when they are asked about issues they cannot discuss, while still maintaining a friendly demeanor.
AS FEATURED ON:
AS FEATURED ON:
By: studiophotopro

A receptionist must have excellent communication skills.

By: Amakar

Receptionists must know how to operate office equipment, such as photocopiers.

By: daniaphoto

Receptionists often make appointments for clients using a calendar.

By: fusolino

Receptionists may be in charge of ordering office supplies.