How do I Become a Beauty Editor?
It generally takes years of working in the industry before being able to become a beauty editor. Beauty editors typically work for women's or fashion magazines, evaluating new products, writing reviews, and editing stories submitted by other writers in the beauty department. First, in order to become a beauty editor, it is almost always necessary to pursue a bachelor's degree in journalism, communications, or English.
It is never too early to start amassing experience, so someone who wants to become a beauty editor one day should work on a college publication or even a community newspaper. You never know who might want reviews of beauty products or an article on the latest trends. All of these clips can help you once you have your college degree and start applying for jobs.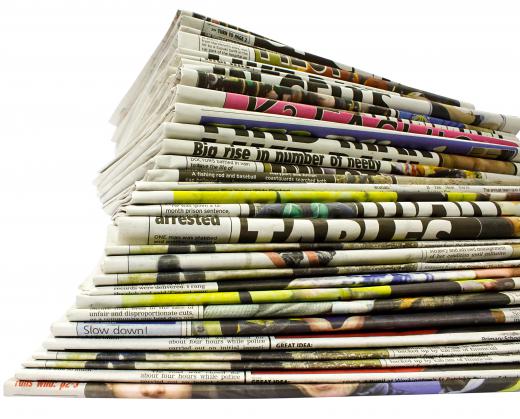 It is virtually impossible to get a job as an editor right out of college. Instead, you will need to work your way up to become a beauty editor. This might mean doing some freelance writing for magazines or newspapers, or it might mean an entry-level staff position at a magazine. Many successful beauty editors began as copy editors, line editors, or fact checkers, just to name a few. Others may be asked to test out some of the products received by the magazine, such as nail care products, facial care products, hair care, or cosmetics, among others.
Success in an entry-level job will make you more noticeable for a promotion. Many magazines prefer to hire from within, and you might soon be able to move up to an editorial or even a senior editor position. While you are trying to become a beauty editor, it is important to consistently read competing fashion and beauty magazines, in addition to the one for which you work, as well as to keep abreast of the latest trends. It may be helpful to look around your area to locate new boutiques or businesses, which might be relevant for a story, and pitch story ideas to your editor.
Anyone who wants to become a beauty editor needs to be clever and creative, constantly thinking of new story ideas and new angles from which to approach a product. Persistence, patience, and consistently turning in quality work will put you first in line if a beauty editor position opens up. Beauty editors at large magazines may receive dozens or even hundreds of products per day to review, and it is necessary to not only be able to do your own work quickly and accurately, but also have the ability to work with other writers and editors, and offer them constructive feedback on their work.
AS FEATURED ON:
AS FEATURED ON:
By: stocksolutions

Beauty editors might write a column for a community newspaper.

By: Oleksiy Mark

Newspaper editing experience may help a person get a job as a beauty editor.

By: armina

A beauty editor needs to stay abreast of beauty trends and noteworthy new products.

By: design56

Beauty editors might review new products on the market.

By: belahoche

A beauty editor may test out new facial care products and procedures.

By: aviemil

Beauty editors need to keep abreast of emerging trends in the cosmetic industry.