How do I Become a Bellhop?
Bellhops are essential staff members of large hotels and luxury resorts. They open doors, transport luggage, and deliver messages, among many other important guest-service duties. Since most employers will hire bellhops with minimal professional experience and high school diplomas, the job is popular among young people and individuals returning to the workforce from retirement or a long break. A person who wants to become a bellhop can research employment opportunities both online and in person, fill out applications, and prepare detailed resumes. In addition, he or she can improve the chances of finding work by becoming familiar with nearby attractions and facilities and developing a friendly, helpful personality.
In order to become a bellhop in most settings, an individual needs to be physically fit enough to stand for long periods of time and carry heavy luggage to and from guests' rooms. It is also important to be well-spoken and friendly, since most bellhops are responsible for initially greeting guests, directing them to check-in desks, and helping them get to their rooms. Hotel patrons who are unfamiliar with a city might ask bellhops how to get to certain popular destinations, so a person can improve his or her chances of landing a job by thoroughly researching the area. An employee should be able to accurately give directions and advice about restaurants and entertainment.
An individual who wants to become a bellhop can browse newspaper advertisements and online job search sites to find openings in his or her area. It is usually a good idea to visit as many hotels as possible and fill out applications, even if they are not actively hiring, so employers will have an application on hand in the event of a future job opening. It is essential to be thorough and honest about job history on an application since most hotel managers will contact previous employers to confirm information. A prospective bellhop can submit an attractive resume along with an application to provide additional details. A resume should emphasize relevant customer service experience and skills.
If a person is able to land an interview to become a bellhop, he or she can prepare answers to common questions about strengths, weaknesses, and career goals. Dressing and grooming well, showing up on time, and being friendly are important to make a good first impression with a potential employer. The interviewee usually has the chance to ask questions about schedules, wages, and specific job duties to make sure the job is a good fit.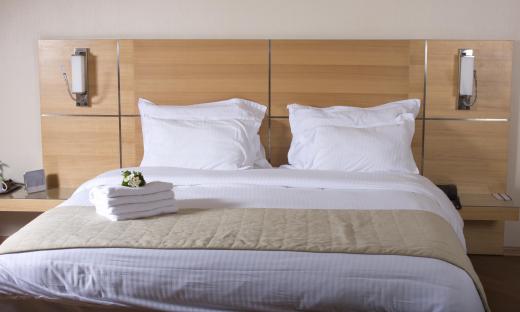 Most bellhop jobs are considered entry-level positions, and wages are relatively low given that extensive education, training, and experience are unnecessary. A person who is able to become a bellhop can still make a good living, however, by working hard and pursuing advancement opportunities. It is customary in most countries for guests to tip their bellhops for a job well done, so work ethic and enthusiasm are often rewarded. Supervisory bell captain positions are available at most large hotels, and a bellhop who shows strong leadership and direction may receive a promotion in time.
AS FEATURED ON:
AS FEATURED ON:
By: Andro

A bellhop should be clean cut and maintain their uniform.

By: uwimages

A friendly demeanor is an important trait in a hotel bellhop.

By: mertcan

Hotel bellhops and porters typically bring guests' luggage to their room and orient them on the hotel's amenities.