A bellman, sometimes called a bellhop, typically works at a hotel or resort and reports to the bell captain. As one of the first employees guests encounter upon their arrival, it is important for this individual to represent the hotel in a professional, friendly manner. Greeting everyone with a smile, the uniformed worker may open doors, assist with luggage, and escort guests to their rooms. He often points out special features and amenities of the hotel. Someone in whit position will generally do whatever he can to make guests feel at home during their stays.
When visitors first arrive at a hotel, the bellman will usually offer to take their luggage and packages. He delivers everything to the patron's room in a timely manner, via a large rolling cart. Many times, he will personally escort guests to their suites. Along the way, he may point out the gift shop, restaurants, swimming pool, weight room, or any other special features of the hotel.
Upon reaching the guest's room, the bellman may open the drapes or turn on lights. He may show guests how to access the mini bar or use the in-room safe. He will usually answer any questions a guest may have regarding checkout or offer directions to local area attractions. His job is to be gracious and hospitable.
When guests depart the hotel, he may assist them by bringing luggage to the lobby. He may also call a taxicab for them or make sure that the parking valet retrieves their cars. While most bellmen earn an hourly wage, it is customary for guests to tip them for good service.
In addition to career opportunities at hotels and resorts, some other establishments employ bellmen as well. Upscale residential buildings, for example, may offer this service for condominium owners. Similar to the type of work performed at hotels, they may open doors for tenants and guests and accept incoming packages. Some bellhops even walk dogs while the pet owners are at work.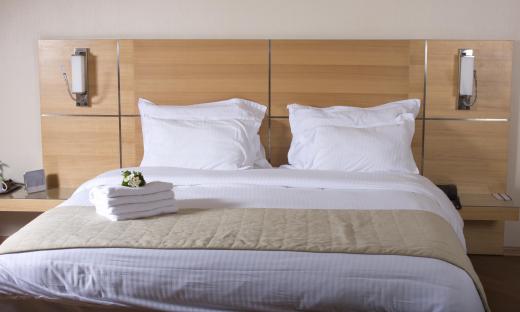 In general, a bellman's position is an excellent opportunity for individuals seeking an entry-level position in the hospitality industry. Some establishments prefer at least a year of previous experience, but others offer on-the-job training. To be successful in this position, it is important for the individual to be personable, patient, and enjoy working with others. A bellman is typically required to do a lot of heavy lifting and spend several hours at a time on his feet.
AS FEATURED ON:
AS FEATURED ON:
By: uwimages

A bellman may assist with luggage.

By: monticellllo

A bellman assists guests with luggage at hotels and resorts.

By: mertcan

Hotel bellhops and porters often welcome guests and inform them about room amenities.