How do I Become a Computer Repair Technician?
To become a computer repair technician, you'll need a strong understanding of computer hardware and software. Start by earning a high school diploma, then consider obtaining a degree or certification in computer science or a related field. Hands-on experience, through internships or entry-level jobs, is also crucial.
A computer repair technician is a computer expert who repairs and maintains computer equipment. The computer repair technician might repair hardware, troubleshoot computer networks or update company software programs. To become a computer repair technician, strong experience with computer hardware and peripherals and in-depth knowledge of different software and operating systems generally are required. A two- or four-year college degree might be necessary, depending on the particular job. Some computer repair technicians earn specialized certificates from vocational or technical schools or from computer and software vendors that show they are competent to work with particular hardware or software.
To become a computer repair technician, knowledge of a variety of computer areas is often expected by employers. Technicians often must troubleshoot problems with modems, printers, scanners and other peripheral equipment, in addition to hardware and software. If you have old computer equipment at home, taking it apart and putting it back together might be helpful as practice.
You also can learn about computers in secondary school by taking computer classes and through computer labs. Some technical high school classes prepare students for CompTIA A+ certification, which is provided by the Computing Technology Industry Association. It is one of the largest non-vendor-specific competency certifications for computer service professionals.
Completing a two-year degree in computer maintenance and repair or a four-year degree in information technology or computer science can help you to become a computer technician. Employers in tight job markets might prefer a more well-rounded education along with the requisite skills, so a college degree can be helpful, especially when you are seeking employment with larger companies. If you plan to start your own computer repair business or work for a small computer repair company, a degree might not be necessary as long as you have the expert knowledge that the job requires.
It's important to highlight all of your computer skills on your résumé, or in your advertising materials if you plan to work for yourself. It can be helpful to join professional computer organizations to make contacts and gain industry education. Communication skills also can be important if you want to become a computer repair technician, because technicians often must deal one-on-one with computer users to decipher their computer problems. Good problem-solving skills are important to diagnose problems, as is decision-making ability to move forward with solutions after problems have been diagnosed.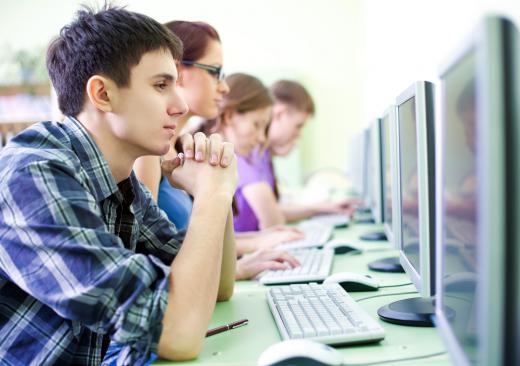 Self-employed computer repair technicians who are just starting out might need references to gain clients. Be prepared to provide the names of people whose computers you have fixed if you want to become a computer repair technician, h. Your advertising materials also can include testimonials from people who have been happy with your computer repair services.
AS FEATURED ON:
AS FEATURED ON:
By: Nomad_Soul

Computer repair technicians usually gain hands on experience outside of the classroom.

By: Robert Kneschke

Computer classes and labs can help someone on the path to becoming a computer repair technician.

By: mickyso

A computer repair technician must know how to repair hardware.

By: yanlev

Knowledge of a variety of computer areas is expected from computer repair technicians.

By: diego cervo

Most computer repair technicians need to hold at least a high-school diploma.

By: wolandmaster

Self-employed computer repair technicians will often need references to gain employment.

By: Ariwasabi

Computer repair technicians may work on mobile PCs as a specialty.