What Does a Server Technician Do?
A server technician ensures the smooth operation of computer servers. They install, maintain, and troubleshoot servers, ensuring data is accessible and secure. They're the backbone of any organization's IT infrastructure. But what skills are needed to excel in this role? Let's delve deeper.
The role of a server technician involves installing, maintaining, and troubleshooting server systems. This can include equipment relating to the internal network used within an office or facility, as well as servers that communicate with the Internet.
A server can carry out a variety of functions, such as handling email storage and traffic, storing files and databases, hosting applications. and managing printers.
Although servers typically function quietly in the background, they are essential for the productivity of any organization or business as they store a significant amount of data and keep employees online.
There are many similar job titles related to being a server technician, such as server engineer, server administrator, data center technician, Internet technician, IT support technician , and network support technician. Although these titles are sometimes used interchangeably, they may vary with regard to the specific duties, management level, expertise, and salary associated with each role.
Job Description
Depending on the employer, the scope of a server technician role can range from managing the server system for a school, office, or business, all the way up to overseeing the rows of servers housed in data centers for tech companies such as Microsoft, Google, or Amazon.
Some server technicians work full-time to oversee the server systems of a particular business or organization. Other server technicians operate on a contract basis, and are called in periodically to repair, upgrade, or replace existing systems.
The role of a server technician is varied, and the specific job description largely depends on the place of work.
Typical duties may include:
Installing servers (including archiving data and switching to a new system)
Building and configuring servers into new networks
Maintaining and upgrading servers
Troubleshooting server and computer network issues
Running security and vulnerability scans
Upgrading hardware and software
Resolving server-related customer support problems
Server installation
Installing a server involves selecting a system or building one from scratch, configuring it, and integrating it with an existing network. In some cases, this entails transitioning from an outdated server to a new one, in which case a server migration will be necessary. The server technician may also need to install hardware, software, and operating systems.
To avoid disruption to the company's operations, a server technician may need to come in after normal business hours to perform the replacement. Once the existing data is archived and a new server is installed, the technician tests it to make sure it works properly and conforms with the specifications of the network. This can also involve ensuring that the environmental conditions in the server room are set at an appropriate temperature and humidity.
Server maintenance
Ongoing server maintenance includes routine tasks, some of which may be automatically scheduled, along with evaluations of the system to determine what needs to be upgraded and when.
When there is a problem with the server, such as a hard drive failure, a technician is always on call to fix it. This can mean coming to work late at night or working overtime to fix a problem as quickly as possible, in order to minimize the disruption to normal business operations. A server technician needs to be able to work well under pressure in tense situations where people may be expecting regular reports and updates on the progress of a repair.
Programming and coordination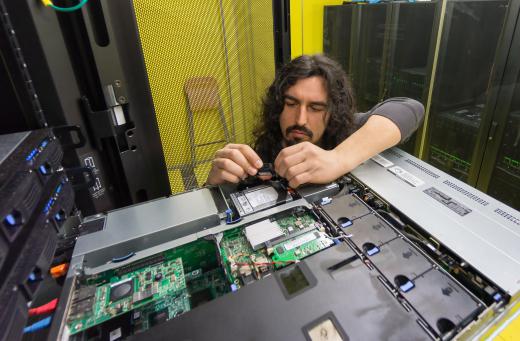 A server technician may need to do some programming on the job, in addition to understanding how programs work. Depending on the information technology infrastructure, technicians frequently coordinate with other employees such as networking technicians, programmers, and customer service representatives to make sure ongoing needs are met.
Desktop and employee support
In addition to handling servers, the role of a server technician may encompass providing support for desktop computers. For example, if an employee's PC has trouble communicating across the network, the server technician may be called in to help so that the employee does not lose Internet connectivity.
How Do I Become a Server Technician?
Education and Training
There are several educational and vocational paths for individuals who are interested in becoming a server technician. Employers often expect an associate's or bachelor's degree in computer science or a related technical discipline, or proof of substantial experience in the technology industry that can be applied to managing servers effectively. It can also help to have completed an internship and gained certifications in particular kinds of systems and protocols. Substantial experience in troubleshooting, technical support, and network administration is highly desirable, especially in lieu of a bachelor's degree. Some server technicians (as well as server engineers and server administrators) have graduate degrees in their field, which is a major asset when securing a supervisory or managerial role.
Required Skills
Excellent communication skills, critical thinking skills, attention to detail, technical writing ability, and problem-solving skills are crucial for this line of work, as well as the requisite technical expertise and familiarity with Windows, Apple, Unix, and Linux server operating systems. A successful server technician will also understand the importance of staying up to date with the latest developments in server technology.
How Much Does a Server Technician Earn?
According to the online employment marketplace ZipRecruiter, the average salary for a server technician in the United States is $42,359 per year, although there is significant variation based on location, employer, skill level, and amount of experience. The largest number of server technician jobs (including some of the best paid) are based in California.
AS FEATURED ON:
AS FEATURED ON:
A server is a computer system that provides functionality for other computers, known as "clients." Common types of servers include mail servers, application servers, web servers, and print servers.

Diagnosing and fixing system faults is a major part of a server technician's role.

Server technicians are tasked with installing, maintaining, and troubleshooting server systems.

A server technician is responsible for evaluating server systems to determine when they need to be upgraded or replaced.

Server technicians may work on the internal systems of an office or business, or at a data center.

By: il-fede

A server technician installs, maintains, and troubleshoots server systems.