How Do I Become a Cosmetic Dermatologist?
In order to become a cosmetic dermatologist, you'll usually need to attend medical school, then complete residency and internship programs in dermatology and potentially also surgery. The path is usually a rigorous one, often taking at least a decade of post-secondary education. Simply graduating isn't usually the end, either; in most places you'll have to pass a battery of certification exams and ultimately find a permanent placement in a hospital or practice. Some doctors also choose to open solo practices, but this often requires a lot of business savvy and managerial acumen. In most cases, the easiest way to get started is to work with other doctors — both for job security and learning purposes. Success in later years often depends as much on expertise as on the ability to attract and retain clients. Cosmetic dermatology is nearly always elective, which means that patients don't always have a medical need for the treatments provided. Treatments are usually done to improve a person's looks rather than his or her health, and building up a client base is often a matter of marketing and outreach as a result.
The Field Generally
Cosmetic dermatology usually focuses on procedures and techniques done to make the skin look more youthful or to remove blemishes that, while unsightly, aren't necessarily problematic from a medical standpoint. Doctors typically offer laser surgery to remove hair, birthmarks, scars, and tattoos. Botox™ injections and chemical peels are also popular ways to achieve a more youthful look. Cosmetic dermatologists frequently also treat hair loss, using procedures such as hair restoration and hair transplants.
Basic Educational Requirements
Like all doctors, cosmetic dermatologists must typically earn a bachelor's degree and complete four years of medical school. Then, after completing an internship, in most places you'll also need to pursue a dermatology residency program that can take as long as four more years to complete. Different countries have slightly different processes, but the basic progression from general to specific knowledge is usually about the same everywhere.
Medical Certifications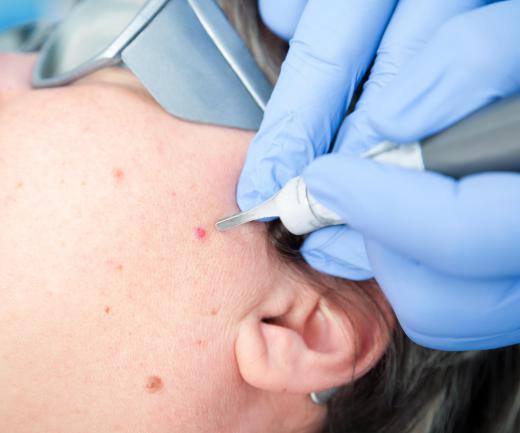 On its own, education isn't usually enough to permit you to become a cosmetic dermatologist. Most of the time you'll also need some sort of certification, and will usually have to prove your specific knowledge through exams commonly known as "boards." As is true with nearly all medical disciplines, practitioners usually have to get recertified periodically, as well. This often takes the form of courses and continuing education seminars that will help you keep informed about the changes and advancements in the field.
Joining a Practice and Getting Started
Of course, actually working with patients and performing procedures is also an essential trait of the cosmetic dermatologist, and can't usually happen outside of a fixed practice. Many new doctors join staffs at hospitals, performing routine dermatological procedures and only later choosing later to specialize in strictly cosmetic aspects. Flexibility is usually important, particularly when you're just starting out. You may find that you need to build a reputation for yourself as a practitioner generally before you'll have success performing only cosmetic procedures. You may also find that you're a more attractive hire if you have a range of experiences, too.
Many practitioners also find it valuable to join groups or organizations devoted to cosmetic dermatology. Examples in the U.S. include the American Society of Cosmetic Dermatology and Aesthetic Surgery, The American Society for Dermatologic Surgery, and the American Academy of Cosmetic Surgery. These organizations and others like them typically grant cosmetic dermatologists access to conferences, journals, and training that will keep you up-to-date on emerging technologies. Meetings and social functions may also give you a chance to network with others, which can lead to new job possibilities and client referrals.
Helpful Personality Traits
There are also a few personality traits and skills that could benefit someone who wants to become a cosmetic dermatologist. As with all doctors, it is important to have good communication and interpersonal skills. An ability to be patient, tactful, and compassionate will likely also serve you well.
How Much Do Cosmetic Dermatologists Make?
Your salary as a cosmetic dermatologist will vary depending on your location and the stage of your career. Some areas are more popular for aesthetic procedures, which increases your potential earnings.
The median salary is about $250,000 to 300,000 but can be as low as $63,000. Many cosmetic dermatologists earn up to $400,000 a year. The top dermatologists in the country can potentially make $800,000 a year; however, they may be outliers. Monthly, a cosmetic dermatologist can make $15,000, and some dermatologists make $81 an hour.
When researching salaries, you should know that someone just starting may make less than someone more experienced. Many higher wages are due to years of experience and additional qualifications. To make the most money, keep up with your education and be aware of new certifications and training you can attend. If needed, moving can be an option to maximize your earning potential.
What Does a Cosmetic Dermatologist Do?
Unlike medical dermatologists, a cosmetic dermatologist treats patients for aesthetic purposes. Visits to this type of doctor are for wants rather than needs. A medical dermatologist is certified to treat skin cancer, eczema, allergies, and other skin diseases and ailments. One big difference is that medical dermatologists are covered by insurance, while cosmetic dermatologists usually aren't. Cosmetic treatments may be covered, however, depending on the issue. Patients should consult with their doctor and determine the best course of action.
Cosmetic dermatologists may provide treatments that help with fine lines and wrinkles, correct skin tone and texture, and tighten skin. They may also help with acne and cellulite treatments. Depending on your needs, they can perform liposuction, botox, and collagen injections. Vein reduction and dermal fillers are also popular reasons people see a cosmetic dermatologist. There are several types of dermal fillers, including hyaluronic, collagen, and synthetic.
Getting skin treated solely for aesthetic reasons is becoming more popular. Cosmetic dermatologists have seen an uptick in new patients because of groundbreaking treatments that help clients look and feel younger.
Other reasons people see a cosmetic dermatologist include:
Laser hair removal: This treatment uses special-frequency light that eventually destroys the hair. After finishing the treatments, which may last months, the hair is permanently gone. It is a popular treatment for this reason.
Chemical peels: Patients get chemical peels to rejuvenate and produce fresh skin. There are superficial, medium, and deep peels. Superficial peels are surface level and deliver brighter skin and fix acne scars. Medium peels help with facial lines and wrinkles. Deep peels use intense acids to treat more complex issues.
Microneedling: The process of microneedling involves damaging the skin to urge the body to start repairing itself. New collagen gets created during the healing process. It gives you fresh, plump skin. Microneedling goes deeper into the skin than chemical peels and uses fine needles.
Mole and wart removal: Moles and warts can be soft and non-cancerous and can show up anywhere on the body. Removal of these growths can help with a patient's appearance and comfort.
If you undertake additional training, you can also treat other skin, nail, and hair diseases and issues. It may allow you to take on more patients and increase your client base.
Cosmetic dermatologists often work at dermatology clinics, medical spas, or general practices. A medical spa is more luxurious and relaxing for clients, while a clinic or general practice looks like a regular doctor's office. You should determine what setting you want to work in and if you would like to open your own clinic or work for someone else.
How Many Years To Become a Cosmetic Dermatologist
It takes several years to become a cosmetic dermatologist since this field requires the same training as a regular dermatologist. To become board-certified, you will need to get an M.D. and then complete a residency that lasts anywhere from three to seven years. A year-long internship before your dermatology residency is also required. Finally, you need to earn a certification as a cosmetic dermatologist. To get this, you need to submit two letters of recommendation from diplomates of a certification board. All of this will take about seven to 12 years after completing your bachelor's degree.
If you are interested in becoming this type of doctor and do not already have a medical degree, determine what schools you want to go to and research their programs. If you already have a medical degree, you may also want to determine what cosmetic procedures to focus on when training further. You will need to see what extra training you need to complete your certification.
AS FEATURED ON:
AS FEATURED ON:
By: roblan

Cosmetic dermatologists may remove varicose veins.

By: Deyan Georgiev

Dermatology is the medical field that focuses on skin health.

By: mkrberlin

Cosmetic dermatologists typically offer laser surgery to remove birthmarks or scars.

By: Ocskay Bence

Cosmetic dermatologists might be able to help people get rid of acne scars.

By: Alexander Raths

Cosmetic dermatologists must earn a bachelor's degree and complete four years of medical school.

By: belahoche

Cosmetic dermatologists usually offer chemical peels for those who wish to have a younger look.