How do I Become a Cytotechnologist?
Cytotechnology is the analysis of microscopic cells to diagnose cancer and other diseases or abnormalities. A cytotechnologist is a health care professional trained in the techniques and procedures of cytotechnology. Laboratory tests and analyses performed by a cytotechnologist typically are used by a physician to make a diagnosis. A cytotechnologist may work in a variety of settings from research to hospitals; however, he or she is always supervised by a pathologist.
While health care careers attract many types of professionals, people wanting to become a cytotechnologist generally need to have certain characteristics. Foremost, the person must like to do microscopic work and have relatively good eyesight. It can be important to like solving problems, be meticulous, be precise, and be comfortable with a high level of responsibility. A person who is looking at medical careers and has these qualities may find cytotechnology satisfying and rewarding.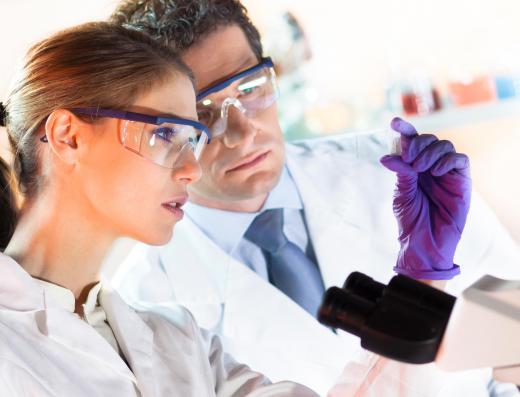 To become a cytotechnologist, a solid background in the sciences is necessary. Training programs may be found at both the undergraduate and graduate levels. Individuals wanting to become a cytotechnologist may be admitted to a cytotechnology program in either their junior or senior year of college, or after they have completed a bachelor's degree. The program must be accredited by either the Commission on Accreditation of Allied Health Education Programs (CAAHEP) or the National Accrediting Agency for Clinical Laboratory Sciences (NAACLS).
Entry-level positions require both a bachelor's degree and the completion of a clinical education program in cytotechnology, typically lasting one year. Course requirements differ among schools and program so it is advisable to contact a school or program of interest for additional information. Generally, the curricula will include courses in clinical medicine, cytochemistry, and cytophysiology, among other scientific disciplines.
In addition to satisfying the requirements for formal education, people wanting to become a cytotechnologist must become certified. Since regulations vary from state to state, it is important to research certification requirements in specific states. Obtaining certification is highly recommended because the majority of employers require it.
People who have satisfied both the academic and clinical education requirements may take the national certification exam given by the Board of Registry of the American Society for Clinical Pathology (ASCP). People who pass the examination may then use the initials CT (ASCP) following their name. This indicates their status as a certified cytotechnologist and eligibility for an entry-level position. Once the certification is granted, the ASCP requires cytotechnologists to take continuing education units to maintain their license.
AS FEATURED ON:
AS FEATURED ON:
By: kasto

Cytotechnologists may need to consult with their supervising pathologists for assistance on some complex cases.

By: micromonkey

Cytotechnolgists use microscopes to diagnose cancer and other abnormalities.