What is a Cytotechnologist?
A cytotechnologist is a type of medical technologist who specializes in examining samples of cells for signs of abnormalities. Cytotechnologists can work with human and animal cells in settings like research laboratories, hospitals, veterinary clinics, pathology laboratories, and forensic laboratories. These medical technologists enjoy a generally good job outlook, as there is a constant need for more laboratory technologists to lighten the caseload of pathologists.
Like other medical technologists, a cytotechnologist must obtain a bachelor's degree in the sciences, often in a field like medical technology or the life sciences. He or she also attends a training program, classically one year in length, which provides skills specific to work as a cytotechnologist, including detailed reviews of cell physiology, microscopy, and related issues. It may be necessary to pass a licensing exam or to join a professional organization to start work, and a cytotechnologist always works under the supervision of a pathologist, a licensed medical doctor.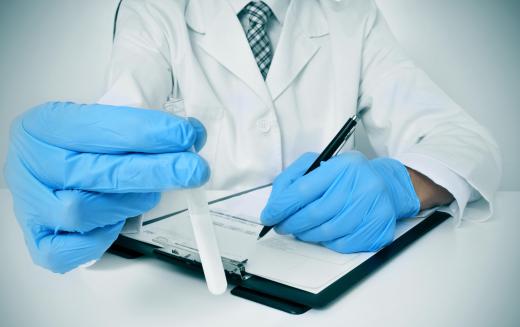 Cytotechnologists can prepare samples of cells for examination, perform examinations under a microscope, diagnose certain conditions, and consult with pathologists on more complex cases. They can also write up test results, and manage tissue samples kept in storage, in addition to maintaining the lab and keeping up with changes in the field, including newly introduced equipment. Many cytotechnologists opt to belong to professional organization and subscribe to trade journals so that they are not left behind when major advances occur.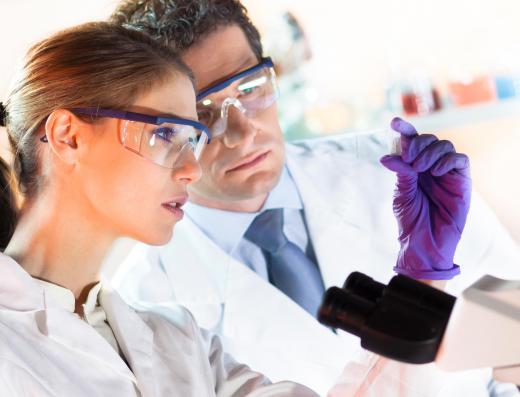 These professionals can work with naturally shed cells, scrapings, or other types of biopsy samples. With trillions of cells in the human body, there is a lot of material to work with, and a cytotechnologist must be skilled at identifying and distinguishing between many types of cells, in addition to identifying abnormalities and areas of concern, such as signs of disease, cancer, and so forth. A very sharp eye for detail is required, as a cytotechnologist views tiny structures, and he or she needs to be able to identify minute variations.
Knowing how to collect and prepare samples is also critical. Cytotechnologists often struggle with samples which are contaminated or collected poorly, making it difficult to obtain conclusive results, and they are also aware that variations in preparation of samples can cause serious problems. Using one stain instead of another, for example, may mask subtle problems with a cell, and it is also possible to mix up samples or contaminate samples in a poorly managed lab.
AS FEATURED ON:
AS FEATURED ON:
By: nito

Cytotechnologists sometimes write up test results, manage tissue samples and maintain the lab.

By: kasto

Cytotechnologists may consult with pathologists on some complex cases.

By: spflaum

It is important for cytotechnologists to know how to collect and properly prepare samples.

By: micromonkey

A cytotechnologist may prepare and examine cell samples under a microscope.