How Do I Become a Fashion Journalist?
Although the most direct — and traditional — way to become a fashion journalist is to attend journalism school, the fashion media marketplace has changed in recent years such that almost anyone with a keen eye for fashion trends and a firm grasp on the written word can successfully break into the field. Most of what the job requires is passion, knowledge, and persistence. Knowledge of the fashion industry's nuances and key players is usually just as important to job success as formal journalism training.
The field of fashion journalism is a broad one. Newspaper fashion columns and sections are obvious examples, but books about fashion, the work of fashion photographers, fashion broadcasting and news coverage of fashion events also qualify. So, too, do fashion blogs and news-oriented websites. A lot of what it takes to become a fashion journalist depends first on determining just what sort of journalist you want to be.
Most newscasters, broadcast anchors, and newspaper columnists come from traditional journalism backgrounds. In established news corporations, the style and fashion sections are usually coveted jobs. The journalists who hold them have usually worked their way up the internal ladder to get there. To become a fashion journalist in these sectors, you will need to be prepared to start out taking work that may not be immediately interesting to you. The goal is to prove yourself as an exceptional journalist so that when fashion positions open up in your organization, you will be one of the first names that comes to mind.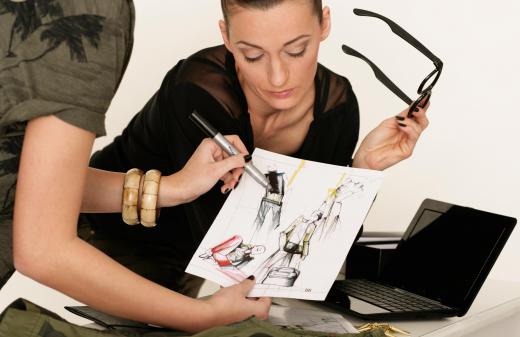 These sorts of jobs no longer represent the majority of fashion journalism careers, however. Most fashion journalists today work on a per-piece or freelance basis. They write articles, take photos, or produce analysis when commissioned or assigned by a particular publication. Getting this kind of job requires a different strategy entirely.
The majority of freelance journalists are self-made, which is to say that they lack formal journalism training. They have become successful based more on what they know than where they work. To become a fashion journalist like this, you will need to study. Learn all that you can about the fashion industry, design firms, and the economic and business forces at play.
You also must showcase your knowledge and prove your authority. Many fashion journalists break into the field by writing fashion industry blogs or by regularly contributing to fashion-based websites. This will give you broad exposure to the fashion industry and will allow you to start following the trends and issues that interest you up-close.
Writing a blog or sponsoring a website is not likely to yield much in terms of profits, at least not at first. If you can build a readership and gain credibility, however, the rewards may start coming in. Fashion magazines and industry publications frequently approach popular fashion bloggers for freelance work, and blogs can also serve as a readily viewable portfolio of work that you can present to potential employers.
The most important thing for anyone looking to become a fashion journalist is a solid grasp of the field. The contours of the fashion world are more complex than they may first appear. While a lot of the work is glamor and style on the outside, at heart, it is a tangled web of designers, economic drivers, and fashion's impact on larger society. A reporter who can make sense of the industry's underpinnings, and who is not afraid to aggressively market his or her abilities, is usually in high demand.
AS FEATURED ON:
AS FEATURED ON:
By: PhotoSG

A fashion journalist should be knowledgeable about the fashion industry and trends.

By: Peter Atkins

Fashion journalists should be aware of current trends.

By: bonninturina

Fashion journalists might choose to exclusively write for magazines.