How do I Become a Quality Control Engineer?
Pursuing a career as a Quality Control Engineer involves earning a bachelor's degree in engineering or a related field, gaining relevant work experience, and acquiring necessary certifications. Mastery of statistical analysis software and quality control methodologies is also crucial for success in this role.
For some people, the decision to become a quality control engineer may be a perfect career choice. A quality control engineer prepares and oversees each stage that is involved in manufacturing materials or producing items for retail. Their ultimate job duty is to check to see that those items reach a certain quality level. To get this job there are several steps that must be taken through high school, college, and additional training.
In an ideal world, someone may decide to become a quality control engineer while he or she is still in high school. If such forethought is possible, then there are certain classes that may make it easier to join this profession. For example, mathematics classes should be taken and excelled in, especially geometry, algebra, and statistics. In high school, physics, chemistry and any physical science classes should also be taken. Classes should be taken in reading, writing, and logic, which will make it simpler to write reports and communicate effectively.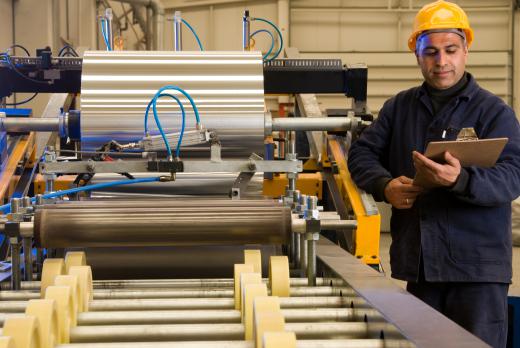 Before someone can become a quality control engineer, he or she must attend a college or university. In fact, most quality control engineers have a bachelor's degree in engineering. In addition, many receive degrees in manufacturing engineering or industrial engineering. Depending on where you want to be employed, you may obtain a degree in mechanical, chemical, metallurgical, or chemical engineering. Every college has its own unique program and most take four or five years to finish.
College classes include advanced math classes, physics, and chemistry. Some find it useful to take classes in statistics and logic. Interestingly, business management and technical writing courses may also prove helpful, especially for those persons who will be managing large groups of people or working for large companies.
There are not any licensing requirements for those who want to become a quality control engineer. However, some special requirements may be required according to a specific industry. There are voluntary certification programs or societies that show that an individual is skilled in her field, such as the American Society for Quality Engineer Certification or the Canadian Professional Engineering Society. To become certified, an engineer must have work experience, proof of professionalism, and pass a written test. Some employers prefer their engineers to have certification.
Other skills that you should have include interpersonal skills and the ability to lead large groups of people. Any person who is extremely introverted or shy may not be best suited for this kind of career. Good judgment is mandatory, because a quality control engineer should consider all the facets that are involved in the outcome of the item.
AS FEATURED ON:
AS FEATURED ON:
By: uwimages

Quality control engineers oversee each stage involved in manufacturing materials.

By: RGtimeline

Quality control engineers may specialize in certain industries, like pharmaceuticals.

By: Michael Gray

Quality control engineers may work in the food processing industry.

By: Rob

Aspiring quality control engineers must have a strong background in advanced mathematics.

By: WavebreakMediaMicro

Quality control engineers typically work onsite, often in a factory or manufacturing plant.

By: Lisa F. Young

Quality control tests and other techniques can be used to improve performance within a division or an entire organization.

By: Kadmy

Machinery testing and calibration play an important role in quality control engineering.