How do I Become a Sports Attorney?
The process to become a sports attorney is different in each country. A combination of education and experience is necessary to develop a career in this niche area of the law. A sports attorney can work for a professional sports team, athlete or management company. Responsibilities vary, but sports attorneys typically focus on contract and business law.
In the United States, a sports attorney is often a member of the administrative or management team for a professional athlete. An athlete would contact the attorney to review employment and endorsement contracts, purchasing contacts and other business activities. Many athletes enter into negotiations with businesses or provide investment funds for other businesses.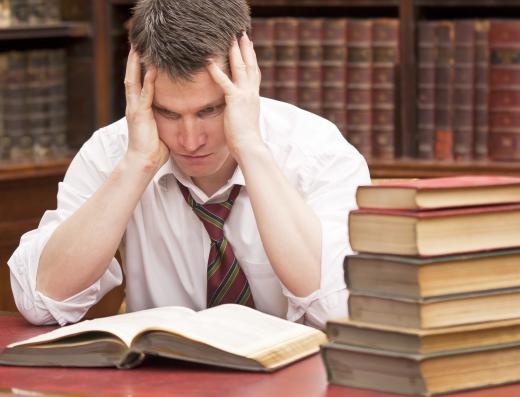 The first step required to become a sports attorney is to obtain a law degree and be certified to work as a lawyer. The requirements in each country are different, but a minimum undergraduate degree from a recognized university is expected. In addition, most countries also have licensing requirements that might include writing exams or gaining a certain amount of legal experience.
The sports industry is very complex, and most people who want to become a sports attorney will need to gain some experience in this sector. Experience can be gained through positions in the administration of a sports team or sporting organization. A solid understanding of the sport itself, the athlete's profile, and the benefits and risks of the sport is essential information that informs decisions and advice that the lawyer can provide to his or her clients.
Attorneys are expected to attract and retain their own clients. Building contacts in this industry is essential to become a sports attorney. Many people build these contacts over a period of years, attending sporting and fundraising events or even volunteering. Relationships with coaches, athletes, agents and talent management companies are all part the responsibilities of a sports attorney.
Upon graduation from law school and completion of the bar exam, look for a position in a law firm that has a niche area dedicated to sports law. Working closely with experienced lawyers will provide an opportunity to learn how this type of law is performed, along with its risks and the benefits. Business negotiations and contract law are quite broad topics, and the actual techniques used are quite specific to each industry.
Additional courses in contract negotiations, the intricacies of endorsement contracts and how to protect the client's business interests are all provided by the local law school or society. These courses can be focused on issues in the sports industry or address widespread issues and concerns. Once you become a sports attorney, it is important to keep your skills up to date.
AS FEATURED ON:
AS FEATURED ON:
By: -Marcus-

Earning a law degree can be the first step toward becoming a sports attorney.

By: michaeljung

Experience is a prerequisite for becoming a sports attorney.

By: Scott Griessel

A sports attorney must have excellent negotiation skills.