How Do I Become a Unit Clerk?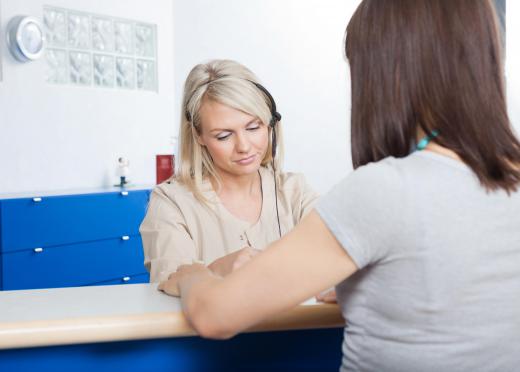 To become a unit clerk, you need to have strong organizational and computing skills, as much of the job requires you to file and process data on a computer system. Although unit clerks don't need college degrees, they do need various certificates and computer knowledge. When you become a unit clerk, there are many opportunities to move up the career ladder. There is even a possibility that you could become a registered nurse or office manager one day.
A unit clerk is responsible for supporting medical staff, patients, and visitors in a hospital through a number of administrative and clerical duties. If you are looking to become a unit clerk, expect to spend your working hours answering the phone, and filing and passing on messages to patients and staff within the hospital. Another important task that falls to unit clerks is entering patients' records into the hospital computer.
You don't need a college degree to become a unit clerk. Generally speaking, a high school qualification or general education diploma (GED) is sufficient. Often, hospitals are more interested in candidates with experience than in those with university degrees. Therefore, if you are looking to become a unit clerk, you need on-the-job experience. You should also have a basic cardiac life support qualification, as in most hospitals, this is a minimum requirement for all unit clerks.
To become a unit clerk, you must have good organizational skills, as you will be responsible for the efficiency of the hospital you are working in. The duties of a unit clerk are manifold and include processing the instructions of doctors through the hospital computer system. You are also required to keep all patient information confidential. With so many files and documents to be processed via computer, all those looking to become a unit clerk are advised to attain proficiency in computer applications and software.
When you apply to become a unit clerk, bear in mind that there are a number of opportunities for career advancement. It is not uncommon for office managers to start their careers as unit clerks. When working for a hospital, seek all the additional training you can to improve your chances of a promotion.
Other clerical jobs, such as a medical secretary or medical office receptionist are the next steps in a unit clerk's career if they are seeking advancement. If you become a qualified nursing assistant, it is possible to move into a career as a registered nurse. This would require a four year degree course where you would study anatomy, physiology and nursing practices.
By: Tyler Olson

Unit clerks work directly with patients and staff in a hospital setting.

By: Tyler Olson

A unit clerk spends much of her time on administrative and managerial tasks.