How do I Become a Warehouse Manager?
A warehouse manager typically is a person who oversees the daily operations of a warehouse. In most cases, warehouse managers are promoted from a pool of employees within the warehouse. In order to become a warehouse manager, a person typically needs to prove that he or she understands warehouse operations and general operating guidelines. Accidents and on-the-job injuries often occur at warehouses, so employers usually take knowledge of basic operations quite seriously. A person who wants to become a warehouse manager can set themselves apart from the competition by taking courses in leadership, employee safety, and logistics.
People who already work in warehouses and are thinking of becoming managers usually should begin by asking about company requirements to be considered for the position. This could provide you with enough time to prepare for the job. Also, it will allow middle managers to observe your initiative.
If scheduling permits, future warehouse managers could consider attending voluntary training courses to keep their skills sharp and abilities up-to-date. Courses usually should be on anything that can be applied to the warehouse environment. Just because a person is not yet a manager it does not mean that he or she cannot begin learning the skills necessary to be an effective manager. Technology courses typically are recommended, as well. This is because warehouses are incorporating technology more and more every day in order to track inventory, orders, shipments, etc.
Thanks to the Internet, management courses can be easy to attend, affordable, and convenient. It is possible for warehouse employees to pursue a degree in logistics entirely online. This helps workers to keep their day jobs while building the skills that typically will make them competitive when a management position becomes available.
Part of being a good manager generally is understanding the job of each direct subordinate. Knowing how to do the job of subordinates allows the manager to lead, guide, mentor, verify, and correct. While it is not generally a requirement for managers to have performed every job of their subordinates, any person who wants to become a warehouse manager typically should make an honest effort to learn the basic principles of every job. This can be done by asking other employees to explain how they do their jobs. Asking someone to explain a job that they perform on a daily basis can offer insight to the job that usually cannot be gained from books or classes.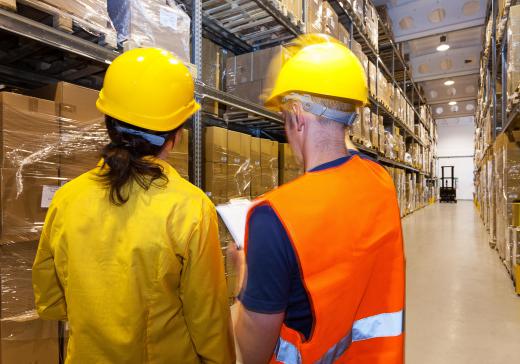 Any person who wants to become a warehouse manager typically should have some practical experience. Landing a job in an operational warehouse will usually show employers that a person has practical knowledge to help solve warehouse-related issues, administer warehouse related policies, and manage warehouse workers. If a person has a particular warehouse in mind that he or she would like to manage but has no practical skills to market, a job at another warehouse usually will suffice for learning the trade that could later be applied at the warehouse of choice.
AS FEATURED ON:
AS FEATURED ON:
By: Monkey Business

A warehouse manager oversees the operations of a warehouse.

By: Ken Pilon

Knowledge of warehouse operations is key to becoming a manager.

By: Photographee.eu

Successful warehouse managers will understand the roles of each subordinate under their authority.

By: Monkey Business

Warehouse managers must have experience with logistics.

By: Monkey Business

To become a warehouse manager, a person should already have some practical experience.