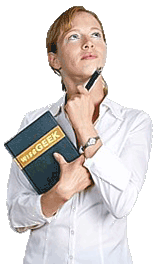 A Microsoft® Certified Professional (MCP) is a person who has been recognized by Microsoft® as an expert on a specific Microsoft® product or technology. To acquire the MCP credential, a candidate must pass the applicable certification exam given by a company called Prometric. Several different certifications are available, including Microsoft® Certified Systems Administrator (MCSA), Microsoft® Certified Systems Engineer (MCSE), Microsoft® Certified Database Administrator (MCDBA), Microsoft® Certified Application Developer (MCAD), Microsoft® Certified Solution Developer (MCSD), and Microsoft® Certified Desktop Support Technician (MCDST).
Prometric has testing sites in many different countries, and exam appointments can be scheduled via the Prometric website. Exams must be taken at a certified Prometric testing center; certification cannot be earned through the internet. Exams are given in several languages, and certified testing centers may be found at private companies as well as local colleges if an official Prometric Testing Center is not available in a particular area. There is a fee for taking each of the different certification exams.
Each type of MCP certification has specific requirements, but most involve a minimum of two or more core exams as well as one or more elective exam. Preparation guides can be found on the Microsoft® website. Though candidates for each type of certification usually have a number of months professional experience on the technology for which they will be testing, there is no experience requirement to schedule a test. Of course, the likelihood of passing the extensive certification exams is greatly increased by obtaining working knowledge of each technology on the job.
The exam format now includes simulation technology that allows candidates to prove knowledge by demonstrating real life application of the different technologies. In addition to general experience and reading the preparation guides accessible on the Microsoft® website, candidates may also wish to utilize Microsoft® e-learning or classroom training. It's best to check the exam requirements well in advance. Though core exams cover all the basic material, candidates have the option of selecting from several elective exams for most types of certification, so advance knowledge allows a candidate to practice specific skills.
Once an MCP credential is earned it is important to keep it current. Technology advancements demand professionals acquire continuous education to stay abreast of changes that may impact the technologies used by the professionals and their customers. When Microsoft® upgrades technologies, those with an MCP credential can usually bypass some of the new tests required when an old exam is retired, but they will have to pass any exams covering new information to maintain current certification.
Woman holding a book