How do I Join the Fire Department?
There are several different types of fire departments. Some hire full-time paid firefighters and some are run entirely by volunteer firefighters. Whichever position is desired, a firefighter must undergo rigorous physical and academic training to ensure a strong knowledge of fire safety techniques and the physical stamina to endure the tasks required by members of a fire department. Joining a department requires that both physical and written tests are passed with scores demonstrating a thorough knowledge of fire safety. Candidates must be able to respond quickly in emergency situations.
The first step in joining a fire department as a paid firefighter is acquiring the appropriate training. Usually firefighters must have a high school diploma, and some complete two- or four-year programs in fire science at community colleges and universities. However, an academic program is not required and if a candidate already has contacts at a fire department, he or she may apply for a position straight out of high school. Much depends on the competition for working in a particular geographical area, so those without connections who wish to work at a popular fire department may have a better shot if they complete an academic program in fire science first.
Once a candidate applies and is accepted for training at a fire department, the candidate must then complete several weeks of training at the department's training center. Training consists of classroom work and practical training where trainees learn firefighting techniques, safety procedures, hazardous materials control, emergency medical procedures, fire prevention techniques, and how to use equipment. When this training is complete, trainees are assigned to a fire company and begin a period of probation. While on probation, firefighters continue training on the job while being supervised by experienced firefighters.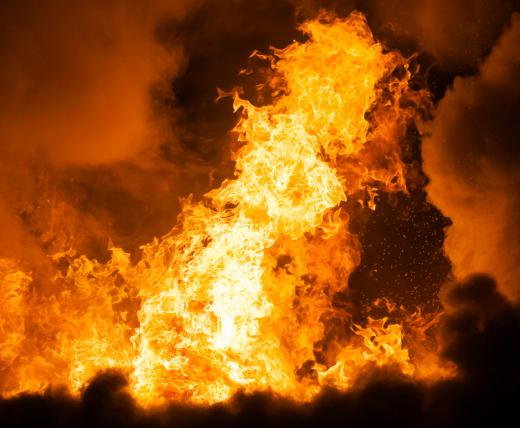 For those who wish to join a volunteer fire department, the procedure is similar. An application must be submitted to the volunteer fire department, then if the application is accepted, the candidate will undergo a training program and then be required to pass a physical and written test. Firefighters must also become certified as Emergency Medical Technicians (EMTs). The level of EMT certification is determined by the individual departments, as is whether or not the certification is required before beginning the job or after. Many fire companies allow up to a year for beginning firefighters to acquire EMT certification.
AS FEATURED ON:
AS FEATURED ON:
By: Monkey Business

Physical strength and good health are required to become a firefighter.

By: ia_64

Fire department candidates must demonstrate a thorough knowledge of fire safety.

By: william87

Firefighters must be certified as EMTs.

By: Tatiana Belova

Some fire departments have age and education requirements for applicants.

By: roza

Once accepted for training, candidates must complete several weeks of training at a fire department's training center.

By: kemaltaner

Many firefighters undergo training to learn to use hydraulic extrication equipment.