What are the Requirements to Become a Firefighter?
To become a firefighter, applicants need to be intelligent, physically fit, and able to withstand an unusual degree of stress. Firefighters must be prepared to carry out a variety of tasks including fighting fires, rescuing people, and educating the public about fire prevention. Training often requires a certain amount of education, with a focus on physical and mental training preparing a candidate to deal with the stress of putting out fires. Not everyone can become a firefighter, but those who are up to the challenge can enjoy a rewarding career that the public traditionally regards with a great deal of respect.
General Requirements
Requirements to become a firefighter can vary by country and region, but the majority of stipulations are common to many places. To apply, a prospective firefighter must be at least 17 or 18 years of age, depending on the fire department. Some departments require that applicants are at least 21 and no older than 29. All applicants in the US must have a high school diploma or equivalency, while some fire departments require that applicants have an associate's degree or complete a few college credits in certain subjects.
Physical Restrictions
Prospective firefighters must be physically fit and possess excellent vision and hearing. In general, each applicant must submit to a medical examination performed by a doctor approved by the fire department. Applicants need to have a clean driving record with a valid driver's license. They must also typically pass a criminal background check.
Educational Requirements
In order to become a firefighter, some people choose to attend a college or university that offers degrees in fire science or fire engineering, though this is not always mandatory. On the other hand, most states provide firefighter applicants with extensive firefighting training, regardless of previous education. After training, students must pass a written test and a physical stamina exam. If an applicant scores high in each exam, he or she has a better chance of being selected as a firefighter.
Psychological Considerations
If someone wants to become a firefighter, then he or she needs to be able to handle stress well. Firefighters respond to emergencies in a calm manner and maintain focus and concentration under extreme stress. Those who panic easily or have a fear of heights should usually not apply to become a firefighter.
On the Job Training
During field training, firefighter trainees often have to fight controlled fires in order to learn a variety of ways to put them out. Some students receive on-the-job training, working with professionals in the fire station. A combination of classroom training and hands-on experience readies trainees to handle a variety of emergencies they may encounter once employed.
Future Opportunities for Firefighters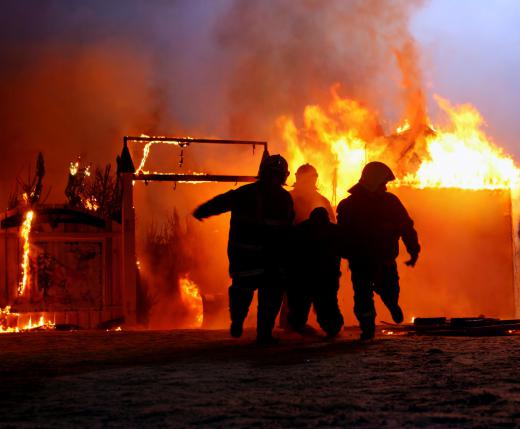 When a person decides to become a firefighter, he or she can expect a career that offers excellent health benefits, a retirement pension after about 20 years of service, and job security. It is rare for a fire department to lay off employees, so firefighters enjoy a high rate of job security. As firefighters obtain years of experience and further education, they can advance within the organization, often becoming a fire inspector, investigator, or fire chief.
AS FEATURED ON:
AS FEATURED ON:
By: Monkey Business

Firefighters' job requirements include physical fitness and ability to work under extreme stress.

By: fotodrachenei

Firefighters must possess excellent vision and hearing.

By: Charlotte Fire Department Charlotte NC

A fire chief must be able to communicate effectively with a community.

By: pkchai

Applicants for a firefighting position must pass a medical examination.

By: Tatiana Belova

Some fire departments have age and education requirements for applicants.