What are Different Types of Auto Mechanic Jobs?
Auto mechanics perform maintenance and repairs on all different types of vehicles, from small passenger cars to motorcycles to diesel trucks and buses. Many mechanics specialize in certain types of repair jobs, such as engine work, auto body repair, and electronic systems. Since there is so much room for specialty, there are several different auto mechanic jobs available.
Many auto mechanics work in independent shops with other service technicians. General mechanics frequently perform preventative maintenance, such as replenishing various fluids, changing filters, rotating tires, and diagnosing engines. When an automobile is not running properly, they may follow troubleshooting guidelines to diagnose problems and repair or replace damaged parts.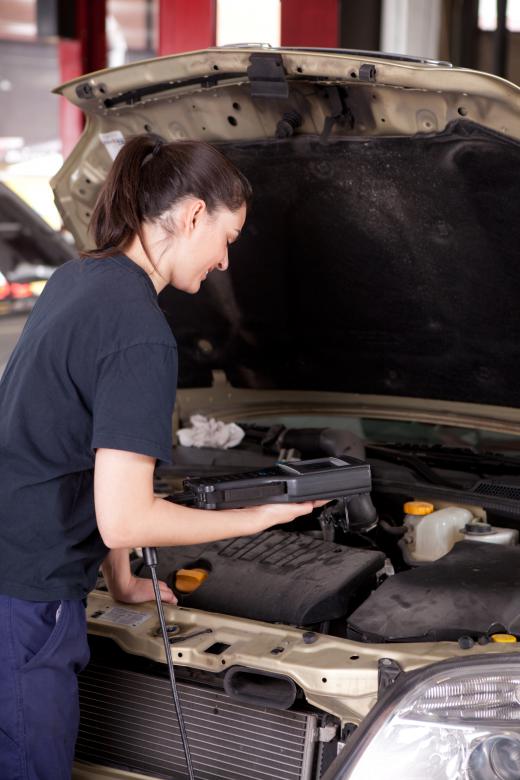 Auto mechanic jobs often require that a person has an extensive knowledge about a certain aspect of vehicles. Transmission mechanics, for example, focus on the various parts of automatic and manual transmission systems, such as gears, drive shafts, bearings, and casings. Brake specialists diagnose problems with brake systems, replenish brake fluids, and change pads. Mechanics may also specialize in servicing complex electrical systems, which can differ greatly between certain types of vehicles. Other specialties may include front end repair, bodywork, and ignition systems maintenance.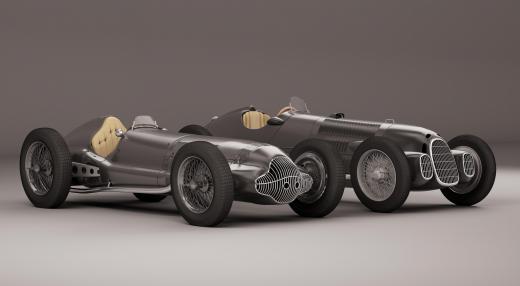 Diesel mechanics service diesel engines on passenger vehicles, commercial trucks, and buses. Diesel powered automobiles work differently than those powered by gasoline and often require very different maintenance and repair practices. As with other auto mechanic jobs, diesel mechanics frequently specialize in transmission work, brake repair, computer systems, or other areas. They may work for independent repair shops or companies with many diesel vehicles on hand which need regular maintenance checks.
To become an auto mechanic in any specialty, a person must typically have a high school diploma and a background in repair work. Many employers prefer to hire mechanics who have completed training programs offered by vocational schools and community colleges. Though specific certification is not always required, many beginning mechanics take a test offered by a nationally recognized institution to improve their credentials and increase their chances of finding auto mechanic jobs. In the United States, the National Institute for Automotive Service Excellence offers certification for several different specialties, including brake repair, air conditioning and heating, and electronic systems.
As automotive technology advances and alternative fuel vehicles become more popular, the number of different auto mechanic jobs continues to rise. Specialists in computers and electronic systems are in great demand to service the complex systems installed on many modern vehicles. Cars that run on electricity, hydrogen, and biofuels require the skills of highly specialized maintenance and repair mechanics.
AS FEATURED ON:
AS FEATURED ON:
By: Tyler Olson

A mechanic may work for a shop that does tune ups and general maintenance.

By: AdrianEugen

An experienced mechanic who has a background in auto history may find a job working for auction houses or museums that must maintain or certify classic vehicles.

By: Andres Rodriguez

There are various career options available for a trained auto mechanic.

By: Aliaksei Hintau

Mechanics may become brake specialists and focus on jobs such as replacing brake pads.

By: Željko Radojko

Auto mechanics have to be able to recharge or replace a vehicle's battery.

By: Kimsonal

A mechanic may perform routine vehicle maintenance, like rotating the tires.

By: Kadmy

Auto mechanics often must have extensive knowledge about specific areas of a vehicle.

By: uwimages

The ability to perform routine maintenance, such as an oil change, is an essential auto mechanic skill.

By: designsstock

Auto mechanics may add extra antifreeze or other fluids during an inspection.

By: Andres Rodriguez

The service advisor is responsible for providing the mechanic with a description of a vehicle's problems.

By: Kurhan

Mechanics need to be able to interface with a car's onboard computer.

By: ashadrov

ASE certified mechanics can specialize in specific systems in vehicles, including transmissions, electronics, heating and cooling systems, and more.