What are the Different Announcer Jobs?
Radio and television announcers have many different job descriptions. Announcer jobs include playing music on a radio station and announcing sports events on television. Announcers are often graduates of a telecommunications or broadcast journalism program. Announcers are more likely to be hired for a certain type of announcer job if they have knowledge or experience in that subject. For instance, to be a disc jockey (DJ) and announce the songs played on a country music radio station, the aspiring DJ's demonstration of an appreciation of that music genre is likely to be expected by the hiring manager.
A DJ may not only play songs in the genre of music a radio station plays, but do research and create informational programs as well. These types of announcer jobs either involve the station choosing the play list of songs to air or the DJ picking each song he or she will broadcast. A DJ with an interest and knowledge in a certain type of music is expected to air radio programming that will keep or even increase the station's listening audience.
Some radio announcer jobs include the DJ voicing parts in commercials. Radio announcers may even write the ads at small stations unless freelance radio advertising copywriters are used instead. Television announcer jobs may sometimes feature announcers' voices on commercials rather than those of voice-over actors who typically do this work.
Television announcer jobs may include introducing guests for game shows and/or giving descriptions about prizes. Public service announcers work in both radio and television. A public service announcement (PSA) is a message that radio and television stations usually broadcast without charging the advertiser. These messages are often advertisements from government or nonprofit groups and are considered to be in the best interest of the public. An example of a PSA is a broadcast urging the public to never drink and drive or a message to use frequent hand washing to avoid getting an influenza virus that is spreading in the area.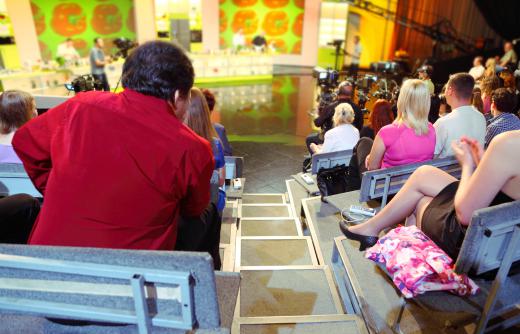 Sports announcers work in both radio and television; they broadcast their announcements from stadiums before, during and/or after games. These types of announcer jobs are often called color commentators. Color commentators have experience or a background in a particular sport. The two main types or sports announcer or commentator jobs are the play-by-play and the game analysis. Sports analysts review plays after games, while play-by-play announcers announce each game play as it occurs.
AS FEATURED ON:
AS FEATURED ON:
By: dmitrimaruta

A DJ works at a radio station.

By: Pavel Losevsky

Television announcers announce guests on game shows.

By: On-Air

Public service announcers work in both radio and television.

By: Monkey Business

Some announcers work on televised sports events.

By: Innovated Captures

Meteorologists may also serve as announcers to share details about local weather.

By: Joanna Zielinska

Television announcers provide narration during programs.

Sportscasters may broadcast in a somewhat soundproof booth close to the action.