What does a Radio Announcer do?
A radio announcer is the voice of a station, delivering news, music, commercials, and public service messages. They engage listeners, conduct interviews, and may even host live events. Their role is crucial in shaping a station's identity. Ever wondered what it takes to become one?
A radio announcer introduces guests, provides station information and public service announcements to listeners, moderates and airs calls to radio shows, and often provides the latest news headlines. Most of this work follows the station's theme. For example, if the station's format focuses on music, she provides information on the songs and artists that are featured. If the radio station operates under a news talk or news-only format, the announcer normally reports on news and weather and introduces talk show hosts as they rotate throughout her shift.
Besides the station's program format, other factors that influence the announcer's job include how large the station is and the number of technical and support personnel on staff. At a medium to large size station, the radio announcer can usually rely on a broadcasting technician to operate the electronic equipment and an engineer to cue the announcer's broadcast actions and play pre-recorded commercials, messages and music. At small stations, the radio announcer is frequently required to perform all these jobs herself.
Regardless of the station's size or number of employees, a radio announcer is commonly required to read live commercials, introduce guests or music selections and announce the station's call letters and area of geographic coverage. In smaller venues, she is often required to read the news, report the weather forecast and announce traffic conditions. If no sportscaster is on staff, she is customarily expected to announce sports scores and report sports-related news.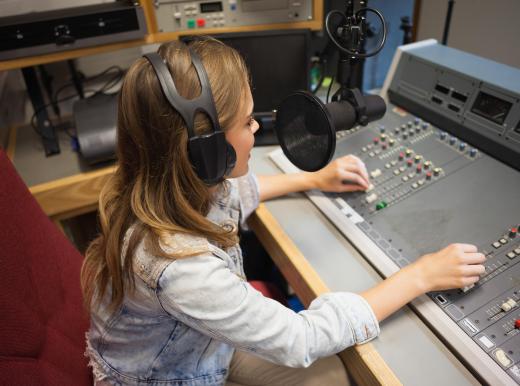 Both music and talk radio announcers are normally required to be well informed on subjects related to their jobs and audiences. They often spend many hours off the air researching topics they feel their fans may find interesting or intriguing. A radio announcer's success often depends on her ability to entertain a wide range of personalities.
A radio announcer is often a celebrity in the community in which her broadcast is heard. This generally applies to announcers who act as disc jockeys as well as those who work for talk radio stations. The former may have a reputation for carrying on amusing banter with her guests and audience members and the latter is customarily viewed as a more serious radio personality. Both types of radio announcers are frequently called on to host local charity events or make promotional appearances at businesses that advertise on the radio station.
Radio announcer positions normally require formal training in broadcasting from a technical institute, college or school that specializes in broadcast journalism training. Some employers prefer a bachelor's degree in journalism, communications, broadcasting or media relations. Experience in radio announcing at a high school or college level is desirable.
AS FEATURED ON:
AS FEATURED ON:
By: dmitrimaruta

A DJ works at a radio station.

By: WavebreakmediaMicro

Radio announcers are commonly required to read the news and to report the weather forecast.

By: gstockstudio

A bachelor's degree in journalism or communications is generally required for becoming a radio announcer.

By: On-Air

A radio announcer may moderate and air calls from radio listeners.