What are the Different Athletic Trainer Careers?
An athletic trainer is a health professional who works specifically with athletes to prevent and treat sports-related injuries. He or she can develop programs to prevent further injuries and can help determine when an athlete can return to competition. There are various types of athletic trainer careers for a trainer to specialize in.
Many high schools have athletic trainers on staff. They usually stand on the sidelines at practices or games along with the coaches in order to swiftly respond to any injuries. A high school athletic trainer often has another faculty job during the day, such as being a teacher, since his or her trainer responsibilities are generally only needed for a limited number of after school hours.
Colleges and universities offer many opportunities for athletic trainer careers. An athletic trainer who works for a smaller college may serve as a trainer for multiple sports. Trainers at larger universities usually have an athletic trainer concentrate solely on a designated team during its season.
Athletic trainers can pursue a career in professional sports, such as basketball, football, baseball, or hockey. These kinds of athletic trainer careers are year-round rather than just during the sport's season. A trainer who is employed with a professional sports team generally travels on the road to be at all the team games or matches. Professional athletic trainers work all the games during the season, as well as supervise team practices and any preseason training camps.
Sports medicine clinics can provide employment for trainers. Athletic trainer careers at sports medicine clinics involve working with injured athletes rather than on the sidelines. Trainers help recognize and treat injuries, as well as assist athletes in physical rehabilitation. Sports medicine athletic trainers may also teach workshops for high school or college level athletic trainers.
Some physicians offices and hospitals also employ athletic trainers. The trainers use their knowledge of working with patient injuries in order to provide extra assistance to busy healthcare facilities. Athletic trainers can help treat physical injuries or at least perform an assessment so doctors can have more opportunities to reach more patients.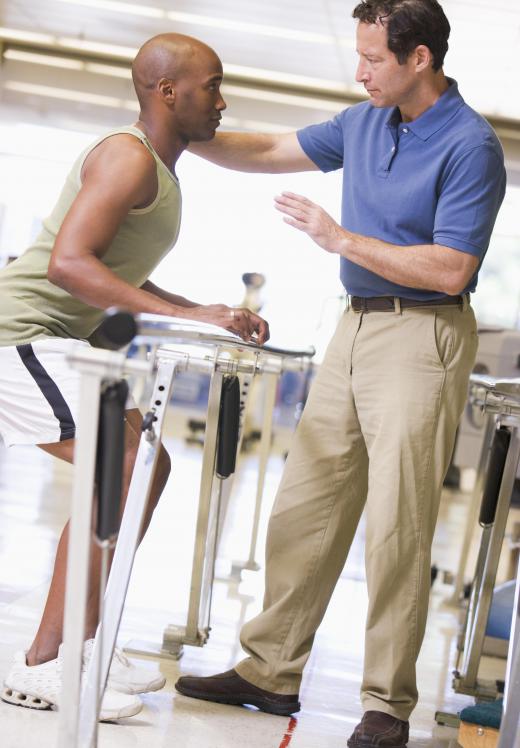 Law enforcement and the military may provide opportunities for athletic trainers. Trainers can work with police officers or members of the military who are going through physical training exams or boot camps. An athletic trainer may supervise and treat any injuries, as well as give advice on how law enforcement officers or military members can keep themselves in optimal condition.
Athletic trainer careers can also be found in areas that are not directly related to sports. Many performing arts companies, especially traveling shows, hire athletic trainers to have on-hand to treat performer injuries. Trainers may also travel with musicians and singers and implement training exercises to keep up the performers' endurance for tours.
AS FEATURED ON:
AS FEATURED ON:
By: Pete Saloutos

An athletic trainer may work with football players or other professional athletes.

By: llandrea

Many baseball teams employ athletic trainers.

By: taramara78

An athletic trainer may develop safe exercise regimens or better techniques for athletes.

By: Monkey Business

Sports medicine clinics can provide employment for athletic trainers.

By: yanlev

Athletic trainers may work with runners preparing for a marathon.

By: oracul

Athletic trainers may have sparring matches with clients to help them build upper body strength.