What is an Athletic Director?
An athletic director, also known as coaching director or athletics leader, is the person in charge of managing intercollegiate athletic programs. An athletic director often works in a university, although colleges and even high schools may also employ one. Depending on the size of the institution, an athletic director may work directly with the teams, or he may oversee the work of other coaches and trainers.
When it comes to job responsibilities, an athletic director with no direct power over the athletic program is basically a manager. He makes sure coaches follow institutional laws and abide by the regulations governing the different competitions, but he cannot change the training method used by the official team coach. Under these circumstances, an athletic director is also banned from making team-related decisions, including hiring or firing of players, giving sanctions, or rearranging training schedules.
In small institutions, an athletic director and a coach may be the same person, although this is sometimes seen as a conflict of interest. In larger schools, and especially in colleges, an athletic director is an administrative position created to manage several trainers in all types of sports. Because of the requirements of the position, an athletic director is more likely to have a business degree than a sports-related degree.
A vital part of an athletic director's job is to secure funding and materials for the team. These can mean something as simple as new uniforms, or as complex as commercial endorsements. An athletic director also plans publicity, organizes timetables for the games, and generally deals with athletic directors from other institutions to find the best possible arrangements for their teams.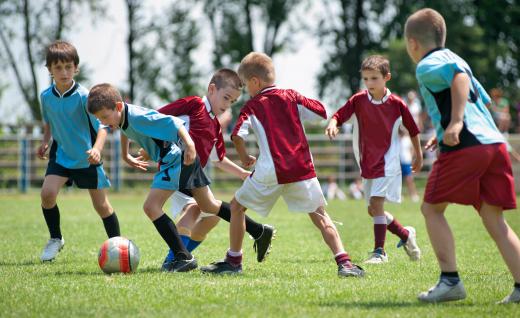 An athletic director works an average of forty hours a week, not counting the weekends, when she attends games to oversee their running and connect with other administrators. According to the US Department of Labor, an athletic director at a medium-level college makes an average salary of $68,340 US Dollars. Ivy universities or those colleges with teams that are positioned well in the intercollegiate athletic table make over $100,000 USD a year.
AS FEATURED ON:
AS FEATURED ON:
By: My 3 kids

Athletic directors may be in charge of designing and purchasing uniforms for teams.

By: Paco Ayala

Athletic directors may oversee an athletic program.

By: Dusan Kostic

Athletic directors may run recreational leagues for children or adults.

By: flucas

A college athletic director may oversee the construction and maintenance of stadiums.

By: icsnaps

Athletic directors are in charge of scheduling practice sessions for athletes.

By: Maridav

Athletic directors may set fitness standards for athletes.