What Are the Different Fashion Stylist Jobs?
Fashion stylist jobs vary in their focus. Some of these jobs involve styling models, while others are celebrity-based. Still other stylist jobs concentrate on the television and film production industry. All of the different types of fashion stylist jobs require deciding not only the color and style of clothing, but also accessories or props.
A fashion stylist job in film or television production calls for a careful interpretation of the movie, show, music video or commercial script. The fashion stylist must plan, select and prepare suitable items to be used in each unique production. The clothing, props and accessories the stylist uses must fit in with the production's entire concept as well as its budget. Some fashion stylists specialize in one area. For example, food stylists work with different foods to make them look appetizing in commercials and photo spreads in magazines and newspapers.
Some fashion stylists work with celebrities to style them for events such as award shows. They must have good relationships with fashion designers since dressing a celebrity for an award show or other event usually means borrowing and returning the garment. These types of stylist jobs involve borrowing several garments for the celebrity to try on before she chooses one. When the press reports which fashion designer's dresses were worn by actresses at the event, the designers receive publicity. A fashion stylist may be hired by one celebrity or many celebrities.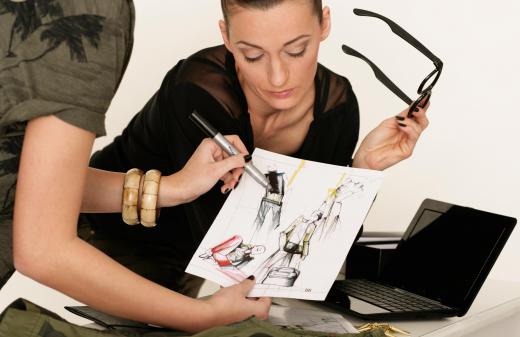 Styling models for fashion shoots is one of the most fast-paced stylist jobs, as sometimes there are only minutes to get things looking perfect. A fashion stylist on model shoots has to be good at quick alterations to fix last minute touch-ups such as split seams or dropped hems. It's also the stylist's job to make sure the model's undergarments aren't showing and that accessories such as shoes and jewelery compliment the designer fashions.
Each different fashion stylist job requires the same attention to detail and knowledge of trendy style. A fashion stylist must always make the model, celebrity and set look attractive rather than just fashionable. Fashion stylist jobs are highly competitive, but are certainly possible for those with both talent and determination. As fashion stylists are independent contractors, they must pay their own taxes. All fashion stylists must work hours that best suit their clients.
AS FEATURED ON:
AS FEATURED ON:
By: PhotoSG

Fashion stylists may work with celebrities or models to style them in trendy outfits with accessories.

By: Peter Atkins

A fashion stylist may work with a private client to create an individual look.

By: julenochek

Styling models for fashion shoots is one of the most fast-paced fashion stylist jobs.

By: albertobogo

Food stylists often use inedible materials to create appetizing pictures of food.