What Are the Different Hair Salon Jobs?
People seeking hair salon jobs can find a number of available options, depending on the range of services offered by businesses in their area. Common hair salon positions are hairdressers, barbers, colorists, and shampooers. Other salon jobs may include nail technicians, skincare specialists and, in some cases, massage therapists. Furthermore, a salon usually employs a receptionist to schedule appointments and to process payments. Owning a salon typically entails working one's way up as a hair stylist or beauty professional.
Hairdressers and barbers are the two most common salon jobs, and they may work alone or with assistants. They cut and style their customers' hair, which they may shampoo themselves or else rely on the help of a shampooer. This person's job is usually limited to wetting the customer's hair and then applying shampoo, conditioner, and any other desired products prior to the hair being cut and styled.
Other common hair salon jobs include skincare specialists, also known as estheticians or makeup experts. This person focuses on the customer's face and advises him or her on skin care options. The position typically requires knowledge of all different skin types and familiarity with common skin problems. A skincare specialist recommends products, chooses and applies makeup, and teaches his or her customers how to put it on themselves.
Nail technicians are another example of hair salon jobs. Their responsibilities include providing manicures and pedicures, and otherwise caring for the hands and feet. They clean and polish customers' nails, and they usually offer additional services, such as applying acrylic nails.
Hair salon jobs can often overlap, especially if the business is small. In order to increase their job prospects, many professionals complete training in a number of services in addition to hair styling, including coloring and skin or nail care. Once someone is working in a salon, there are also usually on-the-job training opportunities to help develop his or her skills.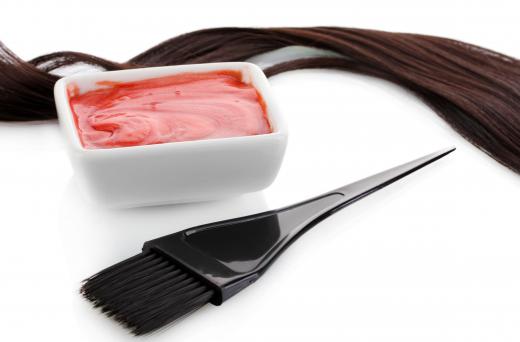 To attract customers and increase profits, many businesses operate as full-service salons or spas. In addition to offering just the basic hair salon jobs, they employ a range of specialists, such as massage therapists. These professionals normally have a separate space in the salon in which to work.
Hair salon jobs might also include administrative and housekeeping roles. Salon owners are often stylists themselves, so they frequently rely on receptionists and the other staff members to help them run their businesses. Small salons with a limited budget might not hire a separate receptionist, but instead have their employees rotate or fill in at the front desk, scheduling their own appointments and accepting payments for their services. Staff members are also normally responsible for tasks such as cleaning the salon, sterilizing tools, and washing linens; the extent to which employees have to share these roles usually depends on the size and budget of the salon.
AS FEATURED ON:
AS FEATURED ON:
By: JackF

Hairdressers often work on their own in hair salons.

By: Friday

Hair washing services may be offered at a hairdressing salon.

By: Africa Studio

Hair coloring is a salon job.

By: gemenacom

Hair salons employ hairdressers, stylists, barbers, colorists, cosmetologists, shampooers, and receptionists.