What are the Different Types of Administrative Assistant Jobs?
Administrative assistants perform a wide range of secretarial duties to facilitate the flow of organization and productivity in a professional or business-oriented environment, usually in an office setting. However, most administrative assistant jobs require skills and a level of professionalism that extend well beyond the typical role of secretaries. As the title implies, the primary duties of administrative assistants are largely related to the administration side of the company or organization with the goal of assisting senior and executive level staff.
Still, most administrative assistant jobs do involve a certain degree of tasks that are clerical in nature, such as answering telephones, setting appointments, typing correspondence, filing, etc. They may also be required to inventory and reorder office supplies, keep accounting records, and other mundane chores necessary for basic office management. However, administrative assistants are generally expected to be equally proficient in using a variety of computer software and database systems, as well as demonstrating exceptional communication and project management skills. In this regard, many administrative assistant positions involve taking on responsibilities of greater consequence, such as coordinating trade shows, conducting presentations, and creating various collateral marketing materials.
Many administrative assistant jobs require knowledge and skill relevant to a specialized field. For instance, some administrative assistants perform double duty as executive secretaries, medical secretaries, or legal assistants. The basic duties of running an office smoothly remain the same, but these positions also involve skills specific to the industry, such as data analysis, recording patient histories, or drafting legal documents. Additional administrative assistant positions that require specialization exist in real estate, insurance, research and development, government, educational, and many more markets.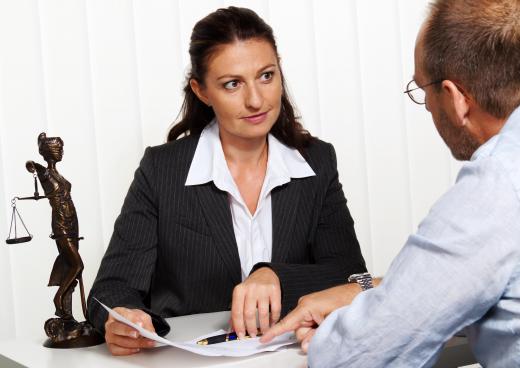 Generally speaking, there is no standard level of training or education beyond a high school diploma that is required to become an administrative assistant. In fact, many people prepare for the role by persevering with on-the-job training in various types of office settings, and working up the ranks over a period of time. However, there are professional certifications available for administrative assistant jobs, at least in the U.S. For example, the International Association of Administrative Professionals offers the designation of Certified Administrative Professional (CAP). Other organizations provide training and certification relevant to certain professions, such as the Accredited Legal Secretary (ALS) and Professional Legal Secretary (PLS) certifications offered by the National Association of Legal Secretaries.
AS FEATURED ON:
AS FEATURED ON:
By: apops

An administrative assistant may be responsible for scheduling.

By: Gina Sanders

A legal assistant may be responsible for conducting preliminary interviews of court witnesses.

By: arthurhidden

Administrative assistants may use technology to work for a professional without being tied to a single location.

By: zhaubasar

Some administrative assistants are only tasked with answering phone calls and doing clerical work.

By: Gianluca Rasile

Administrative assistants may be tasked with making copies and otherwise managing documents.

By: CJM Grafx

Administrative assistants may help executives tackle overflow projects.