What are the Different Types of Data Processing Jobs?
Data processing jobs can range from data entry keying, typing, transcribing, preparing text materials, and mailing labels and letters, among many other tasks. It is basically the transmittal of data from one source to another. Those who are engaged in data processing jobs frequently have different titles, such as typist, transcriber, data specialist, word processor, and keypunch technician. Workers involved in data processing jobs usually enter data into office machines and computers using spreadsheets and other computer software programs. The information they enter may also be printed into handbooks, business reports, and mailings.
Doing data entry processing jobs often involves numerous tasks. These include producing highly technical information, updating figures, maintaining records, and revising spreadsheets or contact lists. While most data entry processing jobs may seem simple, they can also become a good training ground for more difficult tasks. These can sometimes lead to more focused duties, mostly administrative-based, like report analysis, billing, fact checking, and scheduling. Many data entry professionals who have achieved a certain degree of success in their fields usually go on to a job with a higher level of responsibility, such as working as an editor.
Data processing jobs can be divided into three stages. One stage is data entry, which calls for entering of data in the proper format for efficient handling of data. The second phase is the cleansing of data, where most data is checked for errors and accuracy, and the last phase is data mining, which requires statisticians who use various techniques in the processing of data. These data entry processes are often considered important aspects of any business operation, particularly in doing order processing, publication of reports, and updating or maintaining of a company website.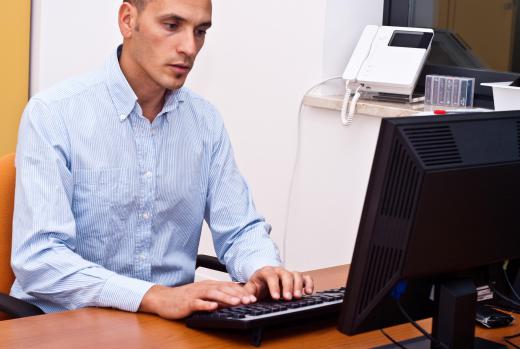 With the emergence of work-from-home jobs, home data processing jobs have become prevalent among skilled workers around the world. These jobs usually range from doing simple data entry jobs to more complicated tasks like data manipulation. Some of these home data processing jobs include tasks such as setting up email accounts, uploading of videos, compiling antonyms and synonyms, and renaming images. These jobs are often outsourced to home-based workers who only need a computer and an Internet connection to process the data and send the output to their clients. In order to be qualified for data processing jobs, one is generally required to have advanced language proficiency, typing skills, and basic knowledge of computer applications.
AS FEATURED ON:
AS FEATURED ON:
By: Sharpshot

Anyone looking for a data processing job should be familiar with computer spreadsheets.

By: Gandolfo Cannatella

With work-from-home jobs, home data processing jobs have become prevalent among skilled workers around the world.

By: Oleksiy Mark

Audio cassettes may be used with transcriber machines.