What does a Word Processing Operator do?
A word processing operator uses a computer and software to render text in digital form. For example, he or she may produce letters and reports using computer software. He may also use computer software to create various types of records and charts. A person with this job may not only type documents, but may also check them for spelling, grammar, and formatting errors. Often, a person with this title is also responsible for printing the documents he prepares or storing them until they are needed.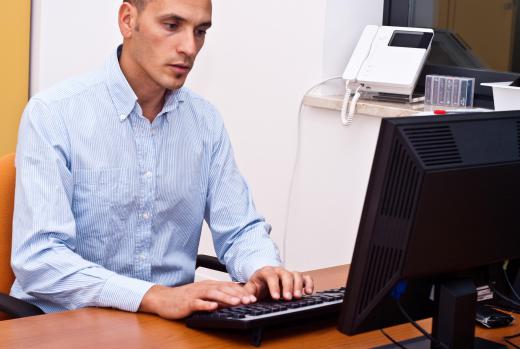 In many cases, office workers and business people type, prepare, print, and store their own documents. Sometimes, however, these people turn to word processing operators for handing documents that are very long, complex, or need special handling. For example, an employee may send his documents to one when it is critical that a document is carefully formatted and professional looking. Additionally, he may use the services of a word processing operator when it is vital that his documents are error free.
Typically, a person who is hired as a word processing operator has more to do than simply type, proofread, and print documents. In many cases, this person is responsible for photocopying, sorting, and filing documents as well. Often, he or she is also called upon to help with a range of other clerical tasks. For example, he may be asked to send faxes or emails. In some cases, he may even be called upon to substitute for a receptionist when he is at lunch, on break, or home sick.
Despite the fact that a word processing operator may perform other office-related tasks, the majority of his job is usually spent working on a computer. To perform well in this job, a person usually needs the ability to type not only quickly, but also with great accuracy. Word processing operators are also expected to have good proofreading skills, so they can detect errors easily. Additionally, they typically need experience working with a number of programs, including those designed for desktop publishing and word processing.
The education a person needs to become a word processor operator may depend on the preferences of his employer. A person with excellent typing skills and word processing experience may land this job with a high school education or a general educational development (GED) credential. Some employers do prefer job candidates who have earned college degrees, however.
By: taa22

Word processing operators enter data and text into computers.

By: Gandolfo Cannatella

Word processing operators are expected to have good proofreading skills, so they can detect errors easily.

By: Elenathewise

Word processing operators are expected to have good proofreading skills.

By: contrastwerkstatt

A word processing operator may be responsible for substituting for a receptionist.