What Does a Data Specialist Do?
Working as a data specialist can be a good fit for individuals with strong mathematical skills, efficient organizational habits and an eye for detail. The need for data specialists has arisen mainly from the transfer of information from traditional paper files to electronic databases. Work environments for this position can vary, but some common workplace settings are research facilities and laboratories. Some typical job duties of a person in this position include performing data research, providing research testing, constructing and editing databases, performing presentations and monitoring inventory.
Performing data research is a necessary aspect of this job, and must usually be done prior to anything else. For example, if a data specialist is working with a healthcare facility, he might need to obtain medical data from numerous patients. To effectively obtain this data, he may look at patient records or utilize surveys.
In other cases, his research may require him to test and collect data from individuals. This usually involves an initial recruiting process where individuals are interviewed and screened. Once research participants are approved, a data specialist must also design a schedule to efficiently test each participant. In some cases, he will test individuals himself and in others he will supervise subordinates during this process.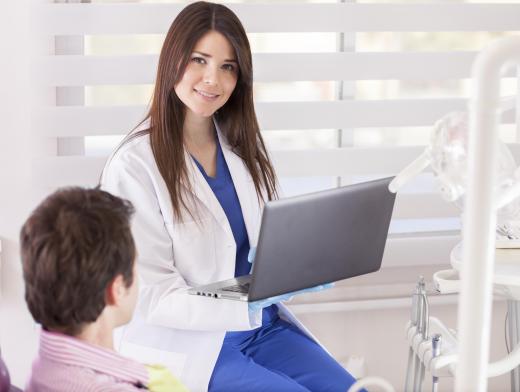 Designing and populating databases is another large part of this job. To effectively analyze and store information, a data specialist must design the database and populate it by entering data into it. This practice requires complete accuracy or the statistical findings can be skewed. As he enters the data, he will also need to make edits when necessary. This part of the job can be extremely tedious at times and can involve a specialist working on a computer for hours on end.
Another common duty of a data specialist is performing presentations. As he develops a database, he will need to effectively convey his findings to either managers or a client. He may utilize slide shows or present statistical findings through graphs so that the information is easily digestible. To perform this job function, a data specialist must have sound communication skills and the ability to break down complex information into layman's terms.
In addition, a data specialist must also continually monitor inventory. This can include items like laboratory equipment and testing materials. Many times, he will also be responsible for keeping track of payments to test participants and for monitoring the overall budget. Consequently, this position calls for a person who is both organized and fiscally responsible.
AS FEATURED ON:
AS FEATURED ON:
By: AntonioDiaz

A medical data specialist may work with electronic medical records updated by a doctor on a tablet or wireless device.

By: AntonioDiaz

A data specialist working in a healthcare facility may need to obtain medical data from numerous patients.