What Are the Different Types of Field Technicians?
A career as a field technician is often a career in technology. Field technicians operate on the road between an employer and customers or some work facility, such as an electrical plant. These trained professionals are responsible for installing, updating, or fixing some service that a customer subscribes to, ranging from telephone, cable, and satellite television to Internet service. Jobs in this field require that the technician obtain a standard driver's license and be prepared to climb to certain heights in some instances.
Any type of field technician job must be filled by individuals who are good in customer service. The job requires not only entering the residences and businesses of customers, who are strangers, but also communicating with people to clearly advise on how equipment for the respective services work. Also, if customers are having trouble with their services, it is the job of the field technician to diagnose the problem and determine if a product needs to be replaced. It is very possible that an individual filling any field technician role must be willing to work on weekends and do overtime.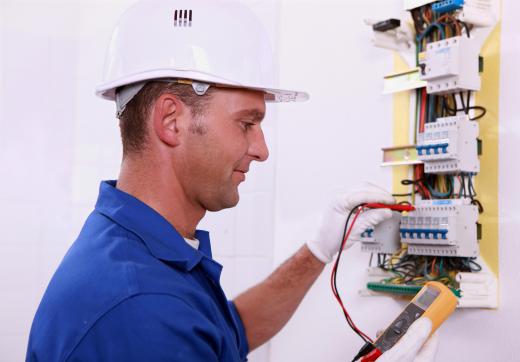 Electrical service technicians must not only be comfortable with people but also handling cables and wires. These professionals must adhere to safety standards as outlined by any regional or employer code. Field technicians in this industry might need to install or perform maintenance on electrical systems. Formal training will likely be required, but in some cases, that may be waived with industry experience. An ability to read and interpret blueprints may be necessary, and technicians should be comfortable drawing rough sketches and forming written reports based on experiences.
Field technicians who install cable or digital subscribe line (DSL) services may be responsible for providing bundled product packages to customers. Common services include television, high-speed Internet, and telephone lines. These technicians may also install home theater systems and other video and entertainment products. The scope of the work ranges from repairing to installing these services in addition to preventing problems and testing equipment along the way. Part of the responsibility of field technicians is to keep trucks used on jobs filled with adequate inventory so that tasks can be completed with one visit.
Often, professionals in this industry can receive training by an employer, and the level of education that might be required is high school or some equivalent instruction. Benefits associated with careers as field technicians may include a retirement plan and health benefits. It is also possible that field technicians receive complimentary service for certain products.
AS FEATURED ON:
AS FEATURED ON:
By: auremar

Some field technicians provide electrical service repair.

By: kjekol

Field technicians include those who install cable in homes and businesses to provide Internet, phone and TV services.

By: rlat

Field technicians may use such tools as a network cable tester to examine problems with a network's wiring.