How do I Become a Certified Electronics Technician?
Electronics technicians work for companies that design, manufacture, test, and service electronic equipment. You can gain the technical knowledge to test to become a certified electronics technician by attending a community college or technical school program in electronics technology. Other technicians seek out an apprenticeship program or position that provides on-the-job training, or gain a combination of education and experience through coursework in electronics technology and learning on the job. Voluntary certification is offered through various organizations, including the International Society of Certified Electronics Technicians (ISCET) and the Electronics Technicians Association International (ETA). Student chapters of these organizations, designed to help familiarize students with the field and prepare them for certification, are available at many colleges and technical schools around the world.
Certification typically does not require a college or technical school degree, but it does require applicants to pass examinations in which they demonstrate detailed knowledge of the field. People who seek certification, especially specialized journeyman certifications, often have spent years working in the field already. If you are just starting out in the field, you still can pursue a lower-level certification. For example, an associate-level electronics certification, which covers basic electronics, is available to working technicians or students through ISCET.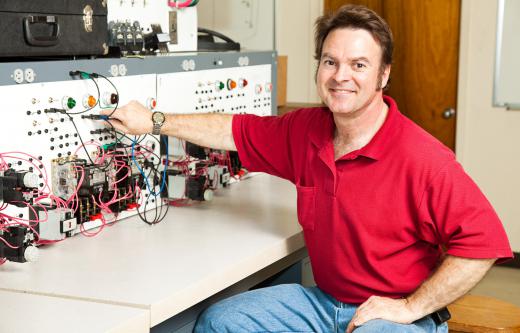 Keep in mind that, while a degree might not be required for certification, employers seeking electronics technicians might require a formal education when hiring. Many will require a two-year degree, and others might require just a high-school diploma and requisite experience. Pursuing a degree program could potentially make you more employable in the field.
Many community college and technical school programs are designed to prepare electronics technicians for certification. Some programs also provide internship and apprenticeship opportunities, so pursuing formal education might help you make connections and find employment in the field. If you decide to pursue a degree to become a certified electronics technician, a few of the basic courses you can probably expect to take include classes in electricity, electrical computations, basic wiring, and digital electronics. If you plan to specialize in a specific area of electronics, such as radar, computer, or industrial, additional coursework in those areas would be needed.
Another quality that will help you become a certified electronics technician is good problem-solving ability. Strong communications skills also are important. The ability to be flexible and work alone in a laboratory or in a team environment also might be valuable in this field.
AS FEATURED ON:
AS FEATURED ON:
By: Lisa F. Young

A certified electronics technician should have hands-on experience, often gained in a trade school or apprenticeship.