What Are the Different Types of Jobs in Sales and Marketing?
There are many different types and level of expertise in jobs in sales and marketing. A career in sales might lead one to a job in business-to-business sales, direct sales to consumers, wholesale sales to a vendor or sales management. In addition, there are sales support jobs such as account managers and sales assistants. A career in marketing might entail such jobs as a marketing assistant, a marketing manager or even a director of marketing. Jobs in sales and marketing are intended to work together in order to increase revenue through sales.
A career in sales involves a great deal of interaction with prospects and clients. It requires strong interpersonal skills and self-discipline. People working in sales spend much of their communicating with prospects through face-to-face contact, phone calls and email. These jobs require great attention to detail and the discipline to follow up throughout the sales process. Most salespeople work on a commission-based compensation model.
Business-to-business (B2B) salespeople sell products and services used by organizations in the operations of their business. This requires the salesperson to be able to identify and communicate with the decision maker or decision makers. Normally, B2B salespeople expect a long sales cycle and work hard to develop relationships with decision makers. Examples of B2B sales include selling group benefits to the human resources department of a company or selling print services to an administration department.
A subset of B2B sales is wholesale sales to a vendor that supplies products and services to businesses. Vendors normally have a portfolio of similar products and services from different manufacturers or companies. They choose which products to offer to businesses and often give businesses a choice of products. An example of wholesale sales to a vendor is an insurance company salesperson contracting with a broker to offer his or her insurance products to the broker's clients.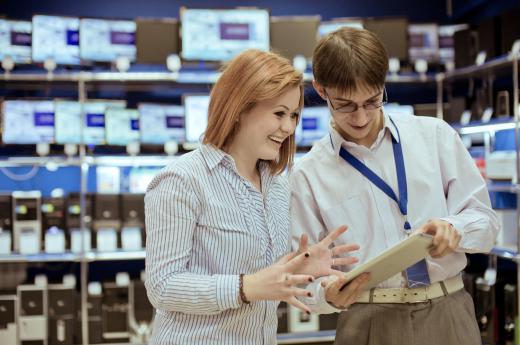 Salespeople who work in direct sales normally target individual consumers. Direct sales usually are made in higher volume than B2B sales, and the sales cycle is much shorter. People working in sales to the consumer often attempt to close their sale in one meeting. Examples of direct sales include automobile salespeople and personal insurance agents.
A career in marketing involves generating interest in and response to a company's products or services and using that information to provide opportunities for the sales department. Most people begin their marketing careers as marketing assistants. A marketing assistant carries out day-to-day details of the marketing strategy decided on by the director of marketing. A marketing assistant might make phone calls, stuff envelopes or run reports using marketing software.
Marketing managers generally supervise marketing assistants. They assign tasks and make sure that the assistants have the tools necessary to carry out the marketing strategy. They communicate with the director about the efficacy of the different marketing campaigns and make recommendations.
The director of marketing typically is responsible for planning the company's broad marketing strategy. He or she will determine the viable channels to market to and how best to enter those channels. The director of marketing works closely with company executives to have a clear grasp of the company's goals and the resources allocated to marketing, as well as with marketing managers to have a handle on how well the strategies are working.
Jobs in sales and marketing are both challenging and rewarding. They require a different set of skills and different personalities. Jobs in sales and marketing, however, both have the goal of increasing sales and revenue for their company.
AS FEATURED ON:
AS FEATURED ON:
By: opolja

Companies make sales, provide customer service, and conduct research through telemarketing.

By: Dmitry Goygel-Sokol

Sales and marketing professionals may be hired to give executives ideas to better present their company's image.

By: jura

A retail salesperson is commonly expected to be informed enough about product specifics to answer detailed customer inquiries.

By: NAN

The overarching goal of most sales and marketing directors is to continually expand the success of a business.