What are the Different Types of Mechanic Careers?
Mechanic careers are often thought to be just the most common type—general automotive mechanics, who perform repairs on cars and vehicles for maintenance purposes. By definition, a mechanic is a worker who provides maintenance and repair to machinery to keep it working properly. Mechanic careers involve a wide spectrum of entirely different jobs, ranging from fleet mechanics to marine technicians. While these are quite different, mechanic careers can be categorized based on the type of work that is performed.
Mechanic careers can be sorted into 4 general categories: automotive mechanics, aircraft mechanics, machinery mechanics, and other mechanics. Automotive mechanic careers include auto body repairers, auto mechanics, brake specialists, and diesel mechanics. Aircraft mechanic careers include aircraft mechanics, repair work specialists, and airplane technicians. Machinery mechanic careers consist of positions like industrial machine repairers, refrigerator mechanics, and air conditioning technicians. Other mechanic careers include marine mechanics and small engine technicians.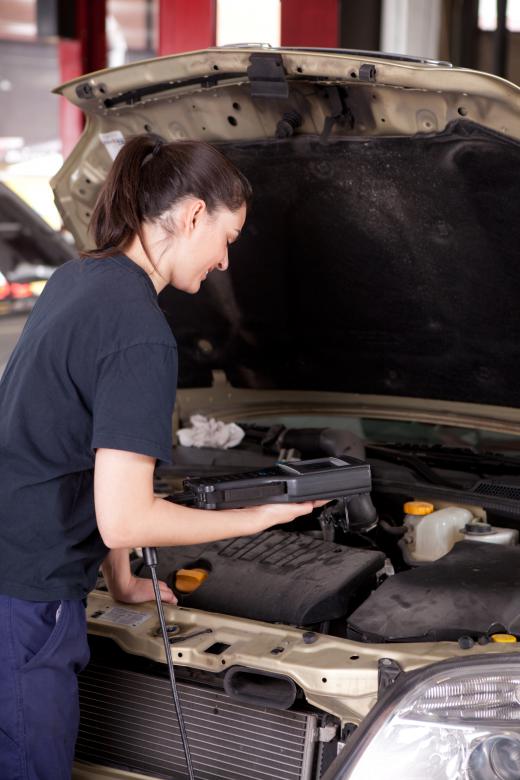 Those in the automotive specialty repair and maintain cars, trucks, motorcycles, and other automobiles. All-purpose automotive mechanics are often available at car shops. More specialized mechanic careers also exist, including brake specialists, tuneup mechanics, auto body repairmen, motorcycle technicians, and performance car mechanics.
Mechanics in the aircraft specialty are responsible for repairing and maintaining airplanes and other aircraft. In the US, these mechanics must work according to Federal Aviation Administration (FAA) standards. The work done by avionics mechanics and aircraft service technicians is vital to the safety of crew and passengers.
Machinery specialists tend to be found most commonly in industrial settings, and careers range from industrial mechanics to electronics repair workers. These mechanics repair and maintain various types of machinery in order to ensure problem-free performance. Beyond industrial purposes, mechanics with a focus on machinery can also be seen in mechanic careers such as air conditioning technicians or engineering mechanics.
To become qualified for a career in mechanics, it may or may not be necessary to attend school. In this field, most careers have a range of positions in terms of ranking. It is not uncommon for mechanic careers to have entry-level positions such as service attendants, which do not require much formal education, as well as higher-level positions will do require university-level schooling. Mechanic schools tend to specialize in one of the popular mechanic careers such as automotive, diesel, aircraft, motorcycle, or marine.
AS FEATURED ON:
AS FEATURED ON:
By: Tyler Olson

A mechanic may work for a shop that does tune ups and general maintenance.

By: Tyler Olson

A mechanic working.

By: Sly

A mechanic who works at a rural airport may maintain a crop dusting service's aircraft fleet.

By: albert schleich

Becoming a motorcycle mechanic is one career option for someone who is mechanically inclined.

By: Andres Rodriguez

There are various career options available for a trained mechanic.

By: AndG

A machinery mechanic may work on air conditioners.