What are the Different Types of Mechanic Jobs?
Mechanics use their expert knowledge to diagnose problems and perform maintenance and repairs on different types of machines and vehicles. There are several different types of mechanic jobs available, as professionals usually specialize within the field. Experts may work with commercial gasoline-powered automobiles, aircraft, diesel trucks and equipment, industrial machinery, or small engines.
Automobile mechanics perform repair work on passenger cars and trucks. They frequently specialize by working exclusively with electrical systems, transmissions, brake systems, or engine compartments. Mechanics might use diagnostic computer equipment to discover problems, and employ a number of different hand and power tools to make repairs. Most automobile mechanics are employed by independent repair shops and car dealerships, though some established mechanics are self-employed, working out of their own private garages.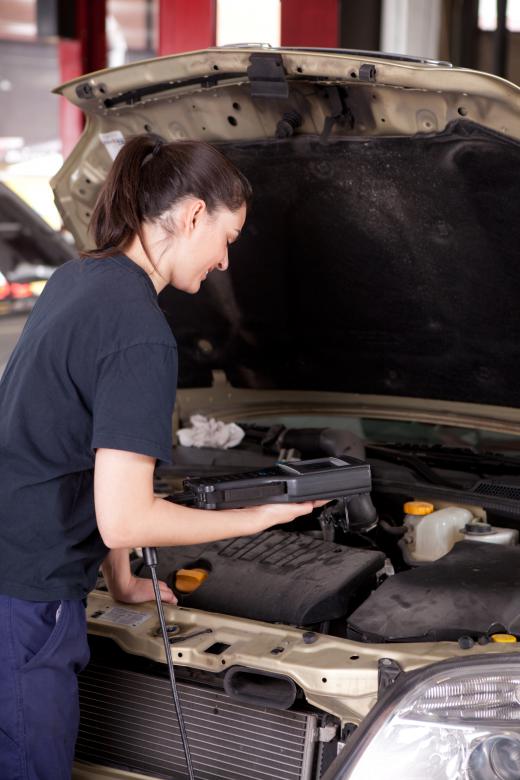 Many elite mechanic jobs can be found in the aviation industry. Aircraft mechanics are responsible for performing preventative maintenance and repairs on various types of airplanes and helicopters. Because aircraft repair can be very detailed, a prospective mechanic must usually complete a one to four year avionics program from an accredited school. Aviation mechanic jobs are found with commercial airlines, flight schools, and private businesses.
Diesel mechanics perform detailed repair work on diesel-powered trucks, buses, boats, and construction equipment, such as cranes and bulldozers. They usually have highly specialized knowledge of complex diesel engines and transmission systems. Diesel mechanics may work for specialty shops, construction companies, or facilities that manufacture heavy equipment.
Several types of mechanic jobs can be found in the manufacturing industry. Modern factories and manufacturing plants usually employ several different types of machinery that may require regular maintenance and occasional repairs. Industrial mechanics are skilled at immediately identifying the cause of malfunctions, making quick repairs, and replacing parts as necessary to keep production moving along.
Mechanics may also specialize with small engines, diagnosing and repairing problems with various small machines. A small engine mechanic may work on motorcycles, lawnmower engines, chain saws, power tools, or other common pieces of equipment that run on gasoline or electricity. Most small engine mechanics work for repair shops, retail stores, and landscaping companies.
Many new mechanic jobs are being created due to the increasing popularity of alternative fuel vehicles and machinery. Experts with knowledge of electric engines, hydrogen cells, and various other alternative fuel systems typically enjoy many employment opportunities. Mechanics with years of experience and educational backgrounds in engineering are often able to get involved in the research and development of new, more efficient engines and vehicles.
AS FEATURED ON:
AS FEATURED ON:
By: Tyler Olson

A mechanic may work for a shop that does tune ups and general maintenance.

By: verinize

Small engine mechanics can work on lawnmowers.

By: Tyler Olson

A mechanic working.

By: Sly

A mechanic who works at a rural airport may maintain a crop dusting service's fleet of aircraft.

By: Andres Rodriguez

There are various career options available for a trained mechanic.

By: Sudheer Sakthan

A mechanic might specialize in vehicle brake systems.

By: photoiron

Changing oil is a common job for auto mechanics.

By: mihashenk

A diesel mechanic often works on heavy machinery, such as bulldozers.

By: ashadrov

Some automotive mechanics specialize in one part of the vehicle's systems, such as the transmission.