What Are the Different Types of Media Industry Jobs?
There are many interesting media industry jobs, including careers in editorial, advertising, marketing, public relations, and design. People in these positions generally create and disseminate information for the general public. Most positions are salaried or hourly employees, but some are self-employed contractors. Since the advent of the Internet, many media jobs can be performed online.
Editors and writers create all types of content, both online and in print. Most of these editorial jobs are based in-house, but many are outsourced or work-from-home jobs. These types of positions are found within newspaper agencies, magazines, websites, universities, and more. Most editors and writers have a degree in English or Journalism — a bachelor's degree is a minimum requirement for most employers. If one does not have a degree, one must possess either extensive experience or a high skill level to be hired for writing or editing jobs.
Advertising media industry jobs also are popular careers among new college graduates. These professionals typically are responsible for selling ads. Advertising jobs can be found within every sector of the media industry. Most employers are seeking applicants with bachelor's degrees in marketing or advertising as a minimum requirement for entry-level positions. Advertising jobs commonly are found in such businesses as newspapers, print media companies, and online companies.
Media industry jobs in design generally include graphic designer positions. Graphic designers are skilled at creating layouts for newspapers, magazines, or websites. They might also create marketing materials, such as brochures and flyers. Writers commonly work closely with designers to produce professional-looking ad materials. One must be very skilled with computers to get graphic design jobs, which may be in-house or outsourced.
Marketing careers are popular media industry jobs as well. An applicant usually needs a college degree to break into this field. This professional's job is to market their employer's product or service to the public. There are also online marketers, sometimes called affiliate marketers. Someone who seeks a career in marketing must have excellent communication skills since these jobs require a high degree of cooperation with other media industry professionals.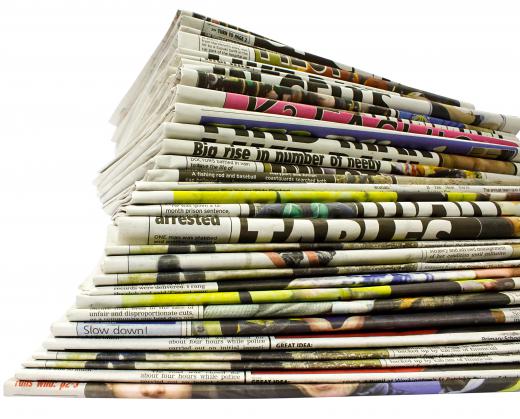 Public relations jobs are related to those in marketing. Public relations (PR) people are responsible for making sure a company or public figure has a good reputation in order to increase sales revenue or create a favorable public perception. Marketing and public relations jobs found at the higher corporate levels, such as executive positions, typically earn the most money in this field.
AS FEATURED ON:
AS FEATURED ON:
By: lenets_tan

Most media employers require a bachelor's degree.

By: corepics

Many people working in media now work exclusively online.

By: georgejmclittle

With the Internet, media jobs like writing and editing can be performed online.

By: stocksolutions

Newspapers have a variety of positions for writers, editors and graphic designers.

By: maska82

Someone interested in the media industry might find work with a magazine.

By: picsfive

Many organizations hire a single employee to manage media inquiries in addition to public relations.

By: WavebreakMediaMicro

A graphic designer is typically expected to be familiar with color theory.