What Are the Different Types of Office Receptionist Jobs?
Many different types of companies and business organizations will hire receptionists to work at the front desk, and greet clients in a lobby or waiting area, as well as to answer phones and direct calls. As a result, there are a number of different types of office receptionist jobs, even if the daily job tasks are usually fairly similar across the board. Some of the most common places to find office receptionist jobs include doctor's offices and hospitals, where it is very important that the phones are always covered. General business offices such as real estate agencies are common as well, in addition to schools or virtually any other type of corporate organization.
Medical offices are perhaps the most common source of office receptionist jobs. Doctor's offices will typically hire multiple receptionists to answer the phones in order to set appointments, answer questions, and greet patients as they enter the office. Hospitals will also have receptionists and switchboard operators for different departments who complete similar tasks. In addition to medical offices, other professionals such as lawyers, accountants, and consultants will also have receptionists to answer their phones and greet clients as they enter the waiting area. Real estate agencies will always have an office receptionist, and often more than one, to perform these tasks as well.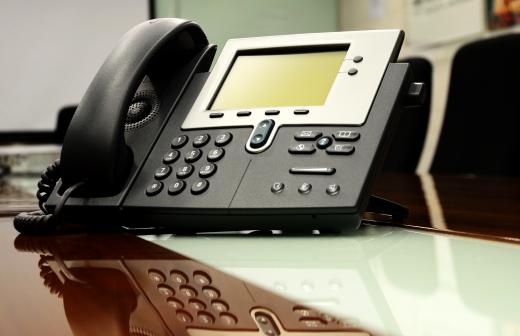 As a general rule, most businesses will offer office receptionist jobs as well. Manufacturers, professional offices such as newspapers or magazine publishers, and virtually any other type of business in which customers or vendors might call or stop by will require someone at the front desk. Only businesses in which there is absolutely no chance of a potential client stopping by will not hire a front desk receptionist, but even in this case, certain internal departments such as payroll or human resources might hire a receptionist or assistant to answer incoming calls.
Schools also represent a great opportunity for finding office receptionist jobs. Most schools will need to have a few people at the front reception area at all times in order to answer the phones and help students, staff, and parents find their way around the school. Receptionists are especially necessary in the morning, when attendance is being taken and the phones will be busy. These are just a few of the most common sources of office receptionist jobs, but searching online, or simply calling around can reveal other potential opportunities for employment.
AS FEATURED ON:
AS FEATURED ON:
By: lionblueg2

An office receptionist should have excellent phone skills.

By: Amakar

A receptionist should know how to use various pieces of office equipment.

By: daniaphoto

Receptionists use calendars to make appointments for clients.

By: Lisa F. Young

A medical secretary may be responsible for asking patients about their medical needs before their appointments.

By: Nuno Alves

Receptionists have to be able to answer questions when customers call.

By: fusolino

Office receptionists often put in orders with vendors for supplies.