What Does a Spa Receptionist Do?
A spa receptionist greets customers, schedules appointments, and handles payment for spa services. As the public face of a spa, the receptionist needs to be friendly and comfortable with a variety of people, in addition to having familiarity with all the spa services on offer. The job may come with benefits like an employee discount on services or opportunities to try new treatments for free, an option provided at some spas so receptionists can provide first-hand information to clients.
Appointment handling, including making reservations, moving them, scheduling providers, and organizing rooms, is an important part of the job for a spa receptionist. This requires considering requests from customers for special services, like oil-free massage for people with allergy concerns. In addition, the spa receptionist needs to make sure clients and providers are appropriately paired; a treatment provider might not know how to do all the services, for example, or a client might request someone of a specific gender.
Clients often have questions about spa services, which can range from how they feel to the ingredients used. The spa receptionist needs to provide accurate information as well as recommendations for people who are unsure about which services they may like. Receptionists can also assist people with questions about group bookings like bridal parties, which can require some advance arrangement to make sure the needs of the clients are met. Receptionists can also place orders for food and drinks for people in the spa so they have refreshment between spa treatments.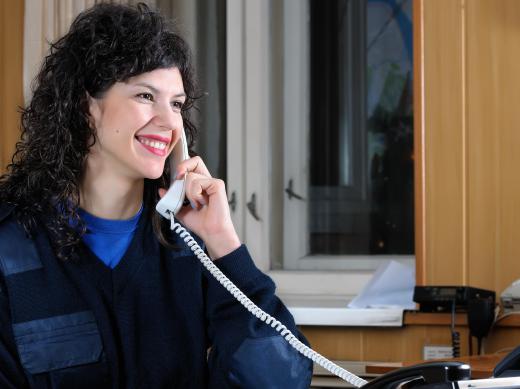 Receptionists often work at a desk area that may include a gift shop with products from the spa. In addition to taking payments for services, they can sell retail products and answer questions about them. A spa receptionist may need to be prepared for busy periods in the shop as well as lulls, and must feel confident even when a crowd of people are asking questions or waiting for help. As an in-person greeter, the receptionist also sets the tone for the visit, making it important to stay calm and relaxed.
Phone and online booking are both common at many spas. A spa receptionist needs to be able to answer the phone as well as handling email inquiries from people who want to book appointments or ask questions. Part of the job can also include familiarity with local amenities, products, and services, so the receptionist can recommend restaurants and other entertainment to customers.
AS FEATURED ON:
AS FEATURED ON:
By: gofasadi

A spa receptionist helps set the overall ambiance at the facility, making sure that it is tranquil and relaxing.

By: zhaubasar

A spa receptionist is typically tasked with handling incoming calls and scheduling appointments.

By: mindweb2

Spa receptionists should have proficient typing skills.

By: Hemeroskopion

A spa receptionist must be prepared to handle special customer requests, such as an oil-free massage when there are allergy concerns.

By: Tyler Olson

A spa receptionist may provide information to clients about the spa services provided at a given location.