What Are the Different Types of Retail Marketing Jobs?
There are a number of different types of retail marketing jobs, each with the overall goal of providing customers with products and service. Marketing positions are found at all levels of the sales process, and include retail salespeople, store managers, regional marketing managers, and retail buyers. Some retail marketing jobs are also available online, and use the Internet to connect people with products.
One of the most common entry-level jobs in the marketing profession is the retail salesperson position. In this position, individuals sell merchandise directly to customers and provide helpful support related to the items carried by a store. Salespeople are generally required to be knowledgeable about the products stocked by the store, and are usually outgoing with good communication skills.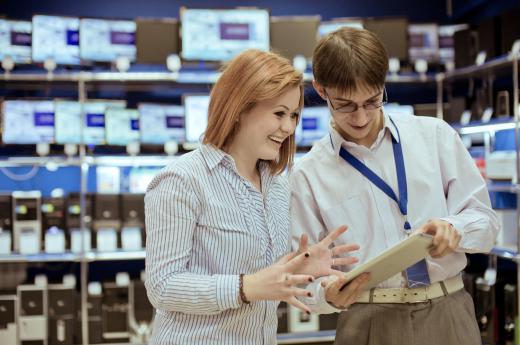 The responsibility of supervising and directing marketing in a specific location belongs to retail store managers. New store managers often attend management training programs, where they learn about supervising retail employees and marketing products in a store setting. Store managers oversee other salespeople at a retail location and work to make store marketing as effective as possible.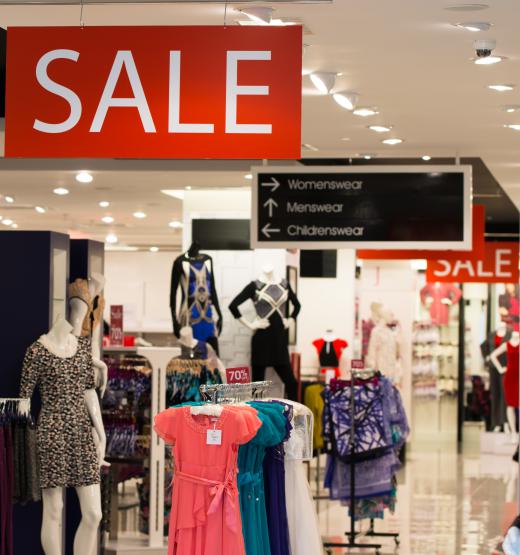 Regional marketing managers supervise the operations of a number of stores in a specific geographic area. Those holding these positions visit each store to teach customer service and marketing techniques to employees. Regional managers also typically monitor the performance of salespeople at each store, and assist managers in refining and promoting the sales performance of the team.
Successful retail marketing is largely dependent upon having the right products to sell. The job of finding merchandise belongs to retail buyers. As with other retail marketing jobs, a strong understanding of people is important for this job. Retail buyers must consider the needs of the public, and try to predict which products will be most in-demand at retail stores.
Retail marketing jobs have historically been focused on providing products to customers in physical locations. The Internet allows retail marketing to flourish electronically, as well. Online stores enable retailers to sell products with minimal overhead, and empowers small sellers to compete with more traditional brick-and-mortar stores. Retail marketing jobs are equally important for online e-commerce, and new opportunities have emerged for marketing experts and store managers to connect with customers in the same city or even on the other side of the world.
AS FEATURED ON:
AS FEATURED ON:
By: jura

A retail salesperson is generally expected to be informed enough about product specifics to answer detailed customer inquiries.

By: Kenishirotie

Fashion marketing plays a role in setting prices and sales promotions to match supply with demand.

By: bertys30

Retail marketing jobs have historically been focused on providing products to customers in physical locations.

By: andreaxt

Retail marketers assist stores in finding new ways to connect with customers.

By: pressmaster

Successful retail marketing depends on having the right products to sell.