What does a Retail Assistant do?
A retail assistant works in the sales arena, but there is more to this position than assisting customers. Although helping clients make purchases is a major part of the retail assistant job description, this job also includes other duties. Display set-up, stocking shelves or racks, and maintaining store appearance are vital to selling merchandise. Sales assistants are an integral part of the sales process, and a business with well-trained personnel may boost customer service and profits.
Regardless of the type of store, these assistants help customers by learning what they want and then helping them find and purchase it. The most effective assistants are able to communicate easily with others and make customers feel comfortable. The first step to getting to know customers is to greet them and find out what they want.
Once the retail sales assistant becomes familiar with a customer's needs and wants, it will be easier to move onto selling a product. Knowledge of the merchandise allows the assistant to easily show customers items they are interested in. Retail assistants with thorough product knowledge and training can boost sales by recommending products to a customer.
Retail assistant duties vary depending on the type of store involved. Job responsibilities in a clothing store include straightening shelves and clothing racks. Some employers may ask sales assistants to set up displays. Pricing, markdowns, and inventory can also be part of the job description.
High-end boutiques, jewelry stores, electronics stores, and car dealerships generally require more thorough product knowledge than other retail businesses. Customers shopping for expensive items expect the salesperson to provide extensive information about the merchandise. Retail assistants in this market may be called upon to set up service agreements, offer insurance information, and arrange financing or payment plans for the customer. Product knowledge should be coupled with salesmanship in order to sell more costly items.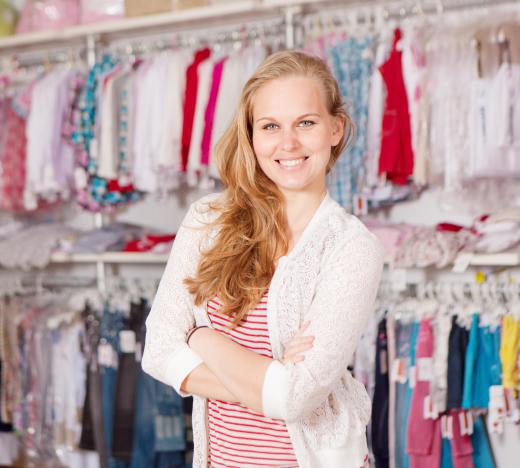 Store security may also be included in a job description. Sales assistants should be aware of what is going on in the store and know what to do in case of theft. Although some stores have a security staff to handle any problems, a retail sales assistant may be required to respond to or report certain situations and behavior.
Hours vary for these jobs and include nights and weekend shifts. Sales positions may be part-time or full-time, and these jobs generally pay minimum wage or slightly more. Most positions require standing for several hours at a time, but conditions are generally clean and pleasant. Some stores will pay a commission to retail assistants in addition to a regular salary.
AS FEATURED ON:
AS FEATURED ON:
By: Pavel Losevsky

A retail assistant may be responsible for setting up product displays.

By: adisa

Retail assistants may answer customer questions about product lines.

By: godfer

A retail assistant may help with stocking shelves.

By: Steve Lovegrove

Retail assistants may be tasked with trying to catch shoplifters in the act.

By: Kenishirotie

A retail assistant may help design displays, which are used to get attention from passing customers.