What Are the Different Types of Sales and Marketing Training?
To find a career in the world of sales, it is often important to undergo some sales and marketing training. While there is no required educational path for most jobs in sales, taking training opportunities whenever possible can lead to a greater possibility of career advancement. There are many different types of sales and marketing training programs, from formal educational study to on-the-job learning tools.
Though most traditional and online universities do not offer a specific sales and marketing degree program, some allow business and management students to tailor their education toward sales. Some colleges provide sales and marketing training as part of a general business education, but a few institutions do allow undergraduate and graduate students to specialize in this area as well. The topics covered by sales and marketing training in college may vary depending on the school, but some focus on understanding market forecasting, consumer analysis, and the large and complex world of advertising. Students that complete a business degree with a specialization in sales and marketing may be well positioned to find a career in the sales industry.
Most businesses have a highly customized and well-developed sales and marketing strategy. This means that in each new sales job, much of the sales and marketing training will be unique to the company. The type of sales tactics used by a business is often referred to as "sales methodology," and may influence all aspects of training. A salesperson changing jobs must be flexible enough to change sales methods as required.
On-the-job training can cover a wide variety of topics, tactics, and tools that the sales or marketing professional will need. Some of the basic training may include memorizing a script or list of customer scenarios, so that the salesperson's response to a customer will be in line with the sales methodology of the business. Salespeople are often taught strategic ways to open a conversation with a customer, how to lead into a sales pitch, and how to close a deal. In general, salespeople are encouraged to follow the tested sales methods of the company rather than try to branch out on their own.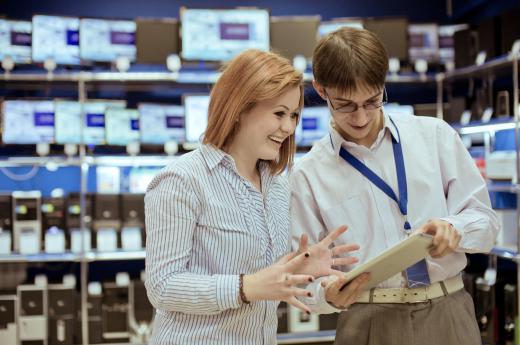 Sales and marketing training may also cover how to log sales, perform inventory checks, and follow up with customers. Many salespeople also go through basic training in customer service, accounting procedures, and general office skills. Since each sales training program is generally unique, the exact skills required from a sales professional will likely vary from job to job.
Marketing professionals may undergo extensive training to ensure their competence at allocating company resources to attract new customers and bolster the reputation of the business. Sales jobs are only one type of marketing concern, so professionals that go into marketing may have sales skills as well as highly-developed abilities to budget for advertising, analyze consumer trends and behavior, and other marketing-related skills.
AS FEATURED ON:
AS FEATURED ON:
By: opolja

Companies make sales, provide customer service, and conduct research through telemarketing.

By: Dmitry Goygel-Sokol

Seminars are sometimes developed to increase sales and productivity.

By: jura

On-the-job sales training is common in the retail sales industry.