What do Interior Decorators do?
Interior decorators are responsible for designing interior spaces that blend artistic style and functionality with a client's budget and individual taste. By choosing correct fabrics, furnishings and color palettes, an interior decorator can turn a plain or mismatched dwelling into a seamlessly designed home that fits together to reflect the owner's personality. Part architect, part psychologist, part artist, an interior decorator can help a less design-inclined client express their individuality through the look and feel of their home.
Many interior decorators have a background in art, architecture or design. Although some come to the business of interior design through practical experience, many choose to become certified or accredited by following a combination education and experience program laid out by overseeing groups, such as the Interior Design Educators Council or the National Council of Interior Design Qualification. These boards certify, through tests and portfolio reviews, that an aspiring designer has satisfied a basic criteria for a career in the field.
Interior decorators tend to specialize in a particular field of design. While some may specialize in creating luxury interiors for the homes of wealthy clients, others may focus on office or industrial design. The field of commercial design can vary widely, with work available designing hospitals, offices, businesses and industrial interiors. Residential designers tend to focus primarily on homes, though some may be called upon to design multi-family dwellings and apartment complexes.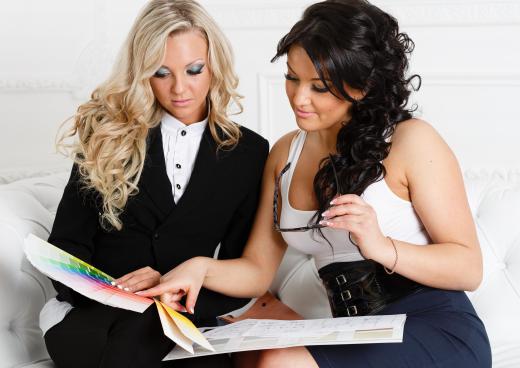 Experienced interior designers frequently form beneficial relationships with professionals in related fields. Having contacts within the painting, furnishing and fabric industries can allow a designer to get better prices and speedier service for their clients. Some interior design firms form partnerships with other professionals, so they are better able to provide clients with a completely streamlined design package based on their needs.
Interior designers need to possess excellent communication and customer service skills. If designing a client's home, they need to create a focused picture of the clients design preferences. Established designers must be able to determine what a client needs on a practical and artistic level: do they like tropical furnishings or English country styles? Do they want a warm, comfortable and kid-friendly environment or would they prefer their home to be a sleek work of modern style? In order to satisfy a client's sometimes nebulous demands, any good interior designer will be able to ferret out answers to these questions and lead confused clients to satisfying solutions.
Those considering careers as interior decorators should begin taking classes and seeking resources regarding art, design history, and practical skills such as painting, molding and sewing. Consider contacting a local design firm and asking about intern or entry-level positions within the company. Those interested in becoming interior decorators may also want to check with firms regarding certification programs and the best path to a career in the field in your area.
In choosing interior decorators, be as choosy as possible. While it is very important to review prospective designers' portfolios of work, it is even more critical to find a designer who listens and communicates well. Remember: the finished product is meant to reflect the sensibilities and needs of the customer, so be sure to find a designer whose primary focus is ensuring that their clients' vision is established.
AS FEATURED ON:
AS FEATURED ON:
By: Bruce Shippee

It's important to select an interior decorator who understands how lifestyle factors into a client's interior design choices.

By: Dmitriy Melnikov

Interior decorators design interior spaces within a client's budget and individual taste.

By: amphotolt

Interior decorators may help pick furniture pieces to finish a room.

By: noomhh

Interior decorators need to factor in color choices when coming up with designs.