Interior design is a discipline related to architecture that pertains to the layout, construction, and overall appeal of interior spaces such as rooms and offices. It is usually a blend of both aesthetic and technical elements. Wall placement, ceiling slope, and window size are some of the more architectural components, while flooring choices, carpeting color, and light fixture installment are some of the common artistic considerations. Most of the time, interior design work is undertaken by trained specialists who contract with either building managers or owners. It can happen either during initial construction or in the event of a remodel.
History
In ages past, interior design was a concept known only to the aristocracy. The idea of maximizing internal spaces was not something at all in the minds of any but those with the grandest, most elaborate estates. Today, however, space considerations are a major part of most building projects no matter their scale. Small homes as well as skyscrapers are routinely designed to be attractive, functional, and efficient — all of which are components of interior design.
Aesthetic Elements
Some of the most interesting parts of the design process come in the choices made for things like window fittings, wall angles, and space partitions. These elements are not usually essential parts of the building design, though they can nevertheless dramatically change the overall look and feel of a space. Decisions on things like decorative light fixtures, fireplace grates, and wood paneling also fall within this category.
Technical Considerations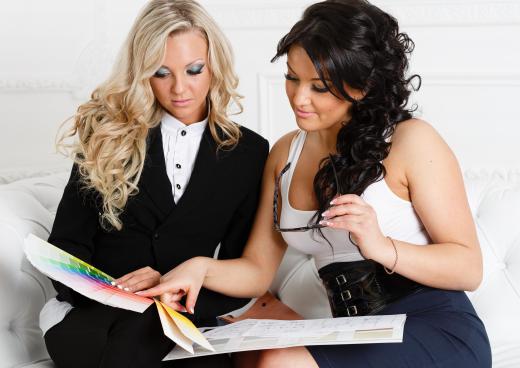 Design is about much more than simple good looks. In nearly all cases, suggestions or modifications must be woven into an overall building plan that takes technical elements like wiring, plumbing, and structural support into account. Decisions about major things like wall placement or appliance location must usually be cleared through and coordinated with a number of different professionals.
Interior Design as a Profession
Many people choose to hire professional interior designers to help plan out a given space. These experts typically work in design firms, though they may also be independent contractors or on staff with architectural or other building-related companies. Once hired, designers will work with clients to create personalized environments that both maximize assets like natural light or rustic wood paneling and satisfy individual vision and desire.
Do-It-Yourself Options
Designing an interesting, savvy space does not always require professional input. A number of interior design resources exist to help home and business owners plan out their own spaces. Books, magazines, websites and online discussion boards are some of the best places to get ideas. It is usually a good idea for do-it-yourselfers to seek the advice of an architect or construction manager before dramatically altering interior spaces, as many major building projects are governed by codes and local restrictions. Most minor changes and aesthetic alterations can be made independently, however.
Differences Between Design and Decorating
Interior design often intersects with the related field of interior decorating, though the two are usually considered separate disciplines. Decorators work primarily with movable fixtures like artwork, furniture, and color schemes to create a certain vibe within a space. People who want to change the look or feel of a room may call an interior decorator to help chart out a new look. A designer called for the same purpose would look more at the floor plan and lighting scheme than end tables or area rugs.
AS FEATURED ON:
AS FEATURED ON:
By: victor zastol'skiy

Interior design incorporates aesthetic and technical elements of a room.

By: sergey02

Installing decorative light fixtures is one part of interior design.

By: Dmitriy Melnikov

Interior designers make decisions on paint colors and flooring types.

By: Photographee.eu

Designers often like to use a flokati shag rug in areas of the home with relatively high traffic.

By: amphotolt

Interior designers may help pick furniture pieces to finish a room.