What does an Interior Designer do?
An interior designer works with clients to remodel and/or decorate rooms and other indoor spaces to make them functional and attractive. Unlike a decorator, people in this field place a strong emphasis on making sure the space is used effectively. The designer must consider factors like the available working area and budget. Individuals may specialize in certain styles or types of interior design, such as residential or corporate, or even work in theater or film production.
Preliminary Work Obligations
When an interior designer is called for an assignment, he or she should first meet with the client to get an understanding of the goals for the project and the client's needs and wants. He or she must examine the space that requires design or decoration to consider how it is currently being used and how it needs to be changed; this may involve observing how people move through the room or area, and determining ways to make the space easier to use. Often, he or she will then draw up preliminary plans for the rooms redesign, including any remodeling work that will be required. Information on what materials are likely to be needed and any budget considerations may be included. In some cases, interior designers may be paid an initial consultation fee for putting together a plan.
Primary Work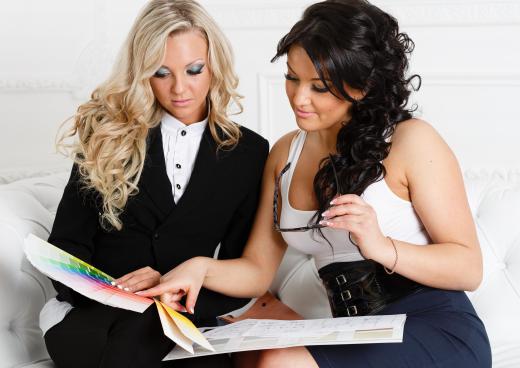 Once the designer is officially given the job, he or she will need to create a final plan of the new design, including specifics about changes to lighting, water, power, and any other factors. If the room needs to be remodeled, he or she may be responsible for finding an appropriate contractor and obtaining any required building permits. A budget must be created and finalized, and a timeline for when the work will be done should be created. The designer usually has the final responsibility for the project, be it large or small, and often must approve of all the changes and make sure that it meets the client's expectations.
Interior design requires a good understanding of how spaces can be used effectively and safely, as well as how the look and feel of a space can affect the people who use it. Professionals in this industry need a strong sense of color and shape, and how they can be used together to make a space attractive. They are often called on to choose wall and floor coverings, furniture, lighting fixtures, and artwork, among other room features, and decide where they should be in the room. Designers may compose a blueprint of an interior space by hand or by computer to show any changes to the area and where any new or existing objects should be placed.
These professionals often work with clients who have specific ideas about the look they want; this could involve choosing fabrics or objects that work for a particular decorating style or color scheme. Some specialize in a certain style, such as feng shui, green or sustainable design, or modern design. Clients who are looking to create a certain style may choose a professional with expertise in that area. This knowledge is particularly important for designers hired to restore old rooms or buildings so that they are returned to their original historical look or those who work in television or films.
Even if a room does not need major remodeling, the designer may recommend smaller changes to the building structure, such as adding built-in shelving or installing larger windows. All of these changes are typically made with how the room will be used in mind, whether it's a living room in a home or a waiting room at a hospital. Touring design studios can sometimes help gauge the needs of the client.
Types of Interior Design
There are a number of different interior design subfields, including residential and commercial, and within these general areas there are additional specialties. Residential professionals work with living spaces, primarily designing rooms for new or existing homes. Some even prefer working with a specific room such as the kitchen or bathroom, or planning and creating closet spaces. Many home furnishing stores have an interior designer or a team of professionals on staff who can make design suggestions and recommend furniture and other objects that will look good together in a room.
Commercial interior designers, on the other hand, plan spaces for government buildings, private businesses, or other corporate entities. Offices are a common focus of these professionals, but they may also work with schools, banks, retail establishments, and other public spaces. Some work to make hotels and restaurants functional and appealing, while others design areas in hospitals and other healthcare facilities; each field often requires specific knowledge about how the space can be used effectively by both customers or clients and staff members.
Training and Skills
Most interior designers are trained in art or design schools, and bring a variety of talents to their profession. Being artistic, having knowledge of building codes and computer-based tools, and possessing good listening skills are all valuable assets for those who wish to have a career in interior design. Management and decision-making skills are key as well, since people in this field often work with other professionals, including builders and tradespeople, and must still make sure projects are completed on time and on budget.
In the US, many states restrict the use of the title "interior designer" to people who have passed a licensing exam. Additional certification in specific areas, such as in bathroom design, is also available in many places. Licensing and educational requirements may vary in other countries, as can the types of work that a designer typically performs. In some places, for example, the work is mostly focused on decorating and furnishing the space.
Hiring an Interior Designer
When choosing an interior designer, a homeowner or company representative should ask for recommendations from other people who have used these services in the past. Many professionals offer examples of their work online, so reviewing the person or company's website can provide a look into the types of work that can be provided. Seeing the space in person can be more useful, however, because it provides the potential client with the opportunity to see how the design is used and how it has held up over time. Most interior designers offer an initial consultation for free, which can be a good way for a client to see if the person communicates well and understands his or her goals.
Most reputable designers are registered with a professional organization, like the American Society of Interior Designers or the British Institute of Interior Design. These organizations may also be a good source for names of local professionals. Designers should also be willing to provide information on their license, if required, and their educational background to potential clients.
It is also possible for non-professionals to do some interior design work on their own. Many people do not have the time or knowledge of how to plan and create a functional living or work space, however, and hiring someone who knows what he or she is doing may save significant effort in the future. Professionals may be able to get discounts on furnishings or other design elements, and since they often have good working relationships with contractors, the client may have more confidence that any remodeling is being done correctly and for a fair price. In addition, there is always the risk that an untrained individual will choose colors or patterns that don't work together or, more importantly, make a significant change to the structure of a room incorrectly, requiring the work to be redone.
Relationship to Other Disciplines
Interior designers often develop relationships with other professionals in the construction and design industry, and may make commissions if he or she steers clients toward the services of a specific company. Cultivating relationships with architects, engineers, contractors, and the like are important because the designer needs to know what services a particular professional can provide, who is affordable and reliable, and who can best put the plans into action. These relationships also help the interior designer show the client what is available in terms of furniture, fabric, paint colors, and so forth.
Individuals who are known as interior decorators may do some of the same work as an interior designer, but may not carry the qualifications or the same amount of responsibility. Other fields that overlap with this profession include architecture and engineering. They also involve a building's overall structure, which may include some aspects of room design. In fact, some interior designers are also trained in these areas and may be valuable contributors in architectural and engineering plans.
AS FEATURED ON:
AS FEATURED ON:
By: alexandre zveiger

An interior designer configures a home's living spaces to match the aesthetic preferences of its owner.

By: Dmitriy Melnikov

Interior design professionals often work with clients who have specific ideas about the look they want.

By: amphotolt

Interior designers may help pick furniture pieces to finish a room.

By: Dmitry Ersler

Some interior designers prefer working with a specific room, such as a bathroom.

By: noomhh

Interior designers make spaces attractive as well as functional.